Britain concerned Russia may move further into Ukraine
Comments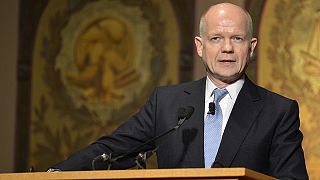 Britain said it was very concerned about the possibility that the Kremlin might send
troops further into Ukraine and cautioned President Vladimir Putin that Russia would pay significant costs unless he changed course.
British Foreign Secretary William Hague said the Russian intervention in Ukraine was the biggest crisis in Europe so far this century.
Hague said that Russia now had operational control of Ukraine's Crimea region and that while Russia had the legal right to base troops in the region, the Kremlin should order
them to return to their barracks.
"Clearly we are very concerned about any possibly of a further move by Russia in other parts of Ukraine but that does not mean the position in the Crimea is stable," Hague said.
"This is a very tense situation and dangerous situation that Russia's intervention has now produced."
Reuters