Arseny Yatseniuk appointed Ukraine's new prime minister amid crisis over 'missing' €27bn
Comments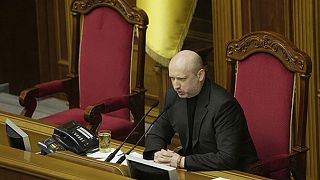 Former economy minister Arseny Yatseniuk was installed as Ukraine's new prime minister on Thursday lunchtime amid a crisis over 27 billion euros of missing credit.
Yatseniuk, appointed as head of a national unity government, accused ousted president Viktor Yanukovich of stripping state coffers bare. He told parliament 27 billion euros of credit the country had 'disappeared' and that the economy was on the 'brink of collapse'
He added that, in the past three years, 51 billion euros was paid out of Ukraine's financial system into off-shore accounts.
"I want to report to you – the state treasury has been robbed and is empty," he said. "37 billion dollars (€27bn) of credit received have disappeared in an unknown direction."
Yatseniuk's revelation came as armed men seized regional government headquarters and parliament in Ukraine's Crimea on Thursday and raised the Russian flag, alarming Kiev's new rulers, who urged Moscow not to abuse its navy base rights on the peninsula by moving troops around.
"I am appealing to the military leadership of the Russian Black Sea fleet," said Olexander Turchinov, acting president since the removal of Viktor Yanukovich last weekend. "Any military movements, the more so if they are with
weapons, beyond the boundaries of this territory (the base) will be seen by us as military aggression," he said.
Ukraine's Foreign Ministry also summoned Russia's acting envoy in Kiev for immediate consultations.