Monster asteroid whizzes past Earth a year after Russia explosion
Comments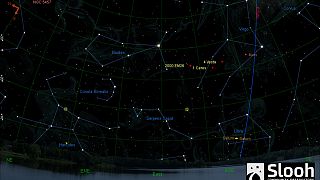 A gigantic asteroid has whizzed 'close' to Earth – around a year after another exploded over Russia, injuring hundreds of people.
The space rock, which measured around 270-metres (885 ft) wide, raced past the planet at about 27,000mph (43,000kph) around 3am CET on Tuesday.
The asteroid came within about 1.6 million miles (2.6m km) of Earth.
On February 15, 2013, a smaller asteroid, around 20m (65ft) in diameter, hit Earth over Chelyabinsk, Russia. Its massive impact shattered windows and damaged buildings, with the flying glass injuring around 1,200 people.
A specialist robotic telescope service, which had hoped to capture pictures of Tuesday's asteroid, failed to operate. The telescope, based at an observatory in the Canary Islands, broadcasts footage on slooh.com. But the equipment froze over, meaning the asteroid could not be captured.
Paul Cox, Slooh's technical and research director, said: "We continue to discover these potentially hazardous asteroids – sometimes only days before they make their close approaches to Earth.
He added: "We need to find them before they find us!"