Philippines: Tragedy in Typhoon times
Comments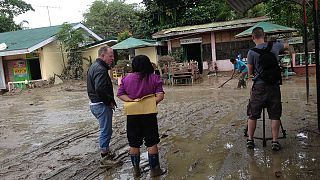 Having never visited the Philippines before I wasn't really sure what to expect.
But I definitely did not expect to be greeted off the plane by an official from the government's media office.
My heart sank, government officials spook journalists, as journalists spook government officials, I much prefer a no-frills arrival.
Anyway my fears were unfounded and we were whisked though the diplomatic channel at Manila Ninoy Aquino International Airport into a bustling, balmy late afternoon.
After a night's kip we met up with Vanessa our coordinator/fixer in Manila and headed off to a crisis intervention centre in the city.
After Super Typhoon Haiyan sliced though Tacloban and the central provinces last November thousands took the opportunity to board the empty military aircraft flying back to Manila after delivering aid.
Many still remain and were queuing at the centre to obtain either financial help or a ticket to return to Tacloban.
Those displaced by the storm related their harrowing experiences as they waited for the mind numbing bureaucracy to run its course.
After filming for a few hours we drove around Manila. I am always stunned to see the very poor and very rich living in close proximity and that is what we saw.
The minted are in paradise, the skint are in hell.
Early next morning we flew to Butuan City in Mindanao. The area had recently been hit by 'Agoton,' a storm, which had caused the Agusan River to swell, causing death and destruction and forcing tens of thousands to leave their homes.
We visited a school, a victim of the four meter high flood waters.
There was shit everywhere, sodden, muddy school books, and paint-tainted crap, add to that an unhealthy mix of sewage and the detritus of the fast-food age.
The place was being cleared up by teachers, a caretaker and a few children.
There was local government official on site, briefly, but no signs of any emergency services or assistance.
I spoke to a man who lived in a flimsy wooden structure by the river as the rain fell and another tropical storm built.
He told me that for his community typhoons were part of an annual "fiesta," but in recent times the severity of the wind and rain had intensified.
We left Butuan as the city girded itself for another tropical storm, the sky turned an ominous grey, the winds howled and the trees bent over backwards.
The people…they waited.
Chris Cummins
Photographer: Vanessa Amante