Worldwide day of activism to "fight back" against mass surveillance
Comments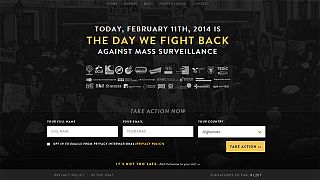 In the wake of the Snowden revelations, digital rights organisations, such as the Electronic Frontier Foundation, individuals and companies such as Twitter and Mozilla, have chosen February 11 as "The Day We Fight Back" against mass surveillance.
"Governments worldwide need to know that mass surveillance, like that conducted by the NSA, is always a violation of our inalienable human rights" states the ad hoc website.
It invites US citizens to call their representatives in Congress via a widget directly embedded on the site to ask "your legislators to oppose the FISA Improvements Act (a bill that attempts to legalise bulk data collection of phone records), support the USA Freedom Act (a bill that works to curtail NSA surveillance abuses), and enact protections for non-Americans," as Reddit's general manager Erik Martin put in a blog post.
Reminiscing digital rights activists' victorious campaigns against SOPA and PIPA – effectively shelving the two controversial bills – the thedaywefightback.org website also has a petition, signed by more than 110,000 people at present.
"The day of activism was announced on the eve of the anniversary of the tragic passing of activist and technologist Aaron Swartz," a spokeperson of the website explained in a statement. "The protest is both in his honour and in celebration of the victory over the Stop Online Piracy Act two years ago this month, which he helped spur."
Thirteen principles
Hoping to update the regulations around the use of modern surveillance technologies, hundreds of organisations and individuals in 70 countries have signed a text titled "International Principles on the Application of Human Rigths to Communications Surveillance".
This document, written in July 2013, states that privacy "is a fundamental human right, and is central to the maintenance of democratic societies (…) Activities that restrict the right to privacy, including communications surveillance, can only be justified" when they respect the rule of law and some principles.
The signatories go on to list thirteen principles that States should respect when conducting "communications surveillance that interferes with protected information." Among these principles: legitimate aim, necessity, proportionality, transparency and integrity of communications and systems.
#StopSpying operation on Twitter
In addition to the online petition and principles manifesto, participants in "The day we fight back" have taken to Twitter to spread their messages against the NSA and mass electronic surveillance. Here are some of the tweets:
It's true <-- #StopTheNSA#StopSpying#TheDayWeFightBackpic.twitter.com/s78Ask8LuP

— Korey Khronic ☠ (@Korey_Khronic) 11 Février 2014
End mass surveillance. Join @DayWeFightBack global action. #stopspying#takebackthetechhttp://t.co/CK8TjME7HDpic.twitter.com/gafgKUYJ6s

— takebackthetech (@takebackthetech) 11 Février 2014
Stand up against mass surveillance. https://t.co/G502YjSbEZ#stopspying#StopTheNSApic.twitter.com/8InE0F3DcC

— Pierre-Marie Bonnaud (@PMBonnaud) 11 Février 2014