H7N9 bird flu strain kills 56-year-old man in eastern China
Comments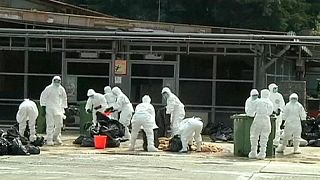 Chinese state agency Xinhua News Agency reported that another person has died after contracting the H7N9 bird flu.
The man, aged 56, died on Friday in east China's Anhui province. However, it was only confirmed he had the virus on Sunday, according to the provincial health department.
Including this latest death, at least 27 people have died of H7N9 this year in China, and 120 human cases have been reported, the news agency said. Meanwhile, Reuters news agency report that H7N9 has infected at least 286 people in China, Taiwan and Hong Kong, killing around 60 of them.
The World Health Organization is closely monitoring the situation:

On 9 February 2014, #China notified WHO of 3 additional laboratory-confirmed #H7N9 cases

— WHO (@WHO) 10 Février 2014
One of latest lab-confirmed #H7N9 cases in #China (9 Feb 2014) are reported to have had exposure to poultry or a live poultry market

— WHO (@WHO) 10 Février 2014
Map of H7N9 cases, by Henry L. Niman PhD
View
H7N9 Pre-Pandemic Cases & Sequences
in a larger map
In the meantime, Chinese authorities at the end of January confirmed a second human case of H10N8 which was reported for the first known time in humans in December 2013.
The new strain, called H10N8, has so far infected only two people – a fatal case in a 73-year-old and another in a woman who is critically ill in hospital. But the fact it has jumped from birds to humans is an important warning, they said.
(with Reuters)