Gay woman in Hong Kong spurns father's double dowry offer
Comments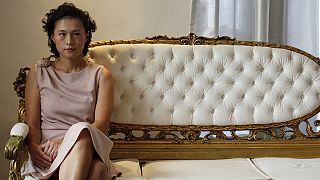 Don't let appearances fool you, Gigi Chao isn't lonely.
The LGBT activist's dad just doesn't get it. She's 33 and has been with her partner Sean Eav for nine years, but her father won't quit trying to get her to marry a man.
Cecil Chao is a property developer with enough money to be able to hassle her (she has repeatedly asked him to stop), by offering cash to any male who can convince Gigi to marry.
How much? According to news agency AFP it could be 130 million dollars. Her father tried the bounty thing in 2012 for 65 million dollars. Gigi got 20,000 proposals. But Sean won.
The South China Morning Post says they married in France in 2012. Same-sex marriages are not recognised in Hong Kong.
Sean is upset with Mr Chao – "distraught" the Post said. Gigi told them she didn't think she would ever be attracted to a man who went for the cash.
An executive director in her father's company, Cheuk Nang, Gigi said: "I would be happy to be friend any man willing to donate huge amounts of money to my charity Faith in Love, provided they don't mind that I already have a wife."
And: "Hong Kong is horrible at accepting and welcoming diversity."
The 77-year-old tycoon is quoted as saying he wants his daughter to produce children who could inherit his business.
He also said: "I don't want to interfere with my daughter's private life." (Perhaps a dictionary, Mr Chao?)
Gigi's on record saying she believes her father's gambit shows how much he loves her.
"Thank you Daddy, I love you too."
(…just please cut it out?)
The Post writes: Chao describes herself as an activist for lesbian, gay, bisexual and transgender (LGBT) rights [and helps] orphans, the mentally ill and impoverished elderly with her Hong Kong charity Zizi Workshop.