Airbus sky high with record orders
Comments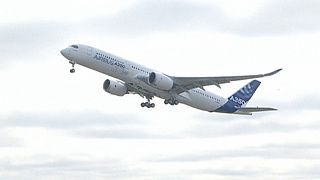 Airbus has received a boost in its challenge to its arch rival reclaiming the top spot from Boeing for commercial orders.
They posted an industry record of 1,619 new aircraft orders for 2013 pushing its backlog to almost nine years of production. The figures represent a rise of 80 percent from the previous year.
The company said it was looking at the potential for a two-stage increase in production of its most popular jets.
In October last year Airbus signed a landmark deal with Japan airlines breaking into that market for the first time with an order for 31 A350 aircraft.
It's unclear how much the deal will be worth to Airbus. Analysts believe heavy discounts played a crucial role in the agreement so Airbus could get a foothold in the market.
Didier Bruno: "Joining us now is Fabrice Bregier the executive director of Airbus. When you look at the figures for 2013 for the company what are you most proud of? The number of orders or the first contract with Japan which has been the preserve of your principal rival Boeing?"
Fabrice Bregier: "Oh I think I am most proud of our A350 flying before the Paris Air Show. But the other two things you mentioned are extremely important for the future of Airbus."
euronews: "Yes it was a real monopoly which Boeing had in Japan. It was an enormous effort by Airbus to enter that market."
Fabrice Bregier: "It was actually the first time Japan Airlines did not buy from Boeing and took from us, Airbus. Thirty one planes for long haul flights. So the deal had a lot of resonance."
euronews: "Talking about the number of sales and looking at the Dubai Air Show. There were huge orders for Airbus and also Boeing which raises the question of discounts on these orders. To what extent could this affect the margins and profitability of Airbus?"
Fabrice Bregier: "Not at all because it gives us visibility, it allows us to reduce our costs. There is of course what you call discounts on large orders but overall the orders contribute to the improvement in profitability and growth in Airbus. It is not a worry. We have taken orders including 50 A380 for Emirates which will be profitable for the airlines but also Airbus."
euronews: "The crucial problem with so many orders can be the delivery schedule. What the main factors which you have to control on the production line?"
Fabrice Bregier: "We have to control the developments – it is essential for the A350. With the evolution of the A320 it was necessary to work more effectively with the so called "supply chain" – that is all of our suppliers. We made significant progress in 2013: we halved the number of parts which were late or missing and it meant we were able to deliver 38 more aircraft to reach the figure of 626 with fewer problems than the previous year. So our actions have started to pay off with our external partners."
euronews: "Precisely, the production rate is a huge challenge because from memory you have more than 5,500 planes on order."
Fabrice Bregier: "Yes we have more than 5,500 units, more than nine years of production at current rates and that gives us a great opportunity. It is about preparing for the future, to continue to innovate and to aim to be more competitive in a very tough environment."
euronews: "What is your wish for 2014? More setbacks or the end of them for Boeing's 787 – the Dreamliner?"
Fabrice Bregier: "No – I am hoping for the success of Airbus that it achieves more orders and deliveries and that we deliver the A350 to Qatar Airways in the last quarter of 2014 which will conclude seven years of development and hard work and we hope it will lead the way to growth in the long-haul segment."