USA: parents want pregnant daughter removed from life support
Comments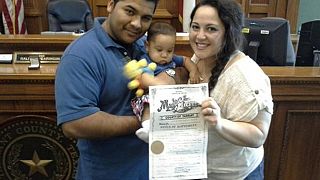 Since November 26, every heartbeat for Marlise Munoz has been assisted by machines. Marlise was 14 weeks pregnant when she was found unconscious on her kitchen floor by her husband.
She was taken to John Peter Smith Hospital in Fort Worth, where family members said doctors suspected she suffered a pulmonary embolism, but didn't know with complete certainty.
Marlise has been on life support since that day in November, and it has been a very difficult five weeks for the family.
"There was a lot of twinkle in our eyes, and a lot of smiles and laughter and… not anymore," said Lynne Machado, Marlise's mother. "It's just barely getting through the day."
Doctors couldn't honor her family's wishes to take her off life-support because of a state law protecting the unborn fetus. Tests are done daily on the fetus, and results show a normal heartbeat. The family has decided to take legal action and has contacted Southlake Attorneys office of Koons Fulle.
Churches, members of the local community, and fire stations all across the country have come together to help out the Munoz family.
"Words cannot express how grateful we are that all these people have come together," said Ernest Machado, Marlise's dad.
At the Crowley Fire Department, more and more baby food and diapers are again starting to stack up, after three truckloads of food and diapers were passed on.
Erick Munoz, Marlise's husband, is a firefighter with the Crowley department. The men and women at his company covered his shift for a month-and-a-half so he can be at his wife's side.
"That's all of these guys at this station stepping up for Erick, saying 'I'm going to work for him,'" said Lt. Tim Whetstone of the Crowley Professional Firefighter's Association.
Whetstone told News 8 that firefighters even stood 24-hour watch at the hospital for the family through December.
On Wednesday, Erick and Marlise's first child, Mateo, turned 15 months old. Mateo hasn't seen his mom in almost five weeks, and is too young to know or understand what is happening.
"He'll see the doors open, and he'll check to see if it's mama coming home still," Lynne Machado said.
The next important date is the beginning of February. That's when doctors will test to see how viable Marlise's fetus is, and they'll also be able to see if she can sustain the child.
Whetstone says there are still opportunities to help out the family. An account has been set-up with Wells Fargo under the names "Erick and Mateo Muñoz."
Source:Detroit Free Press