Who will lead the world's biggest democracy?
Comments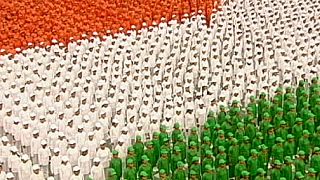 The sheer dimension of it is enough to impress, as general elections in India are, from a human and a logistical point of view, the largest exercise of democracy in the world. If in 2004, they covered an electorate larger than 670 million people – over twice that of the next largest, the European Parliament elections – in 2009 they involved an electoral body of 714 million, larger than both EU and US elections combined! And next year, nearly 800 million people, out of the country's 1.27 billion, will cast their ballot in the next elections for the 543 members of the 16th Lok Sabha, the lower house of the Indian Parliament. The poll is likely to be held in the first half of 2014, most probably in May.

But it's not necessarily the dimension of the electorate that makes India's 2014 electoral race worth watching closely. Expect it to feature all the ingredients of good politics. There will be charismatic leaders and head-to-head-style, confrontational campaigning. Expect Indian-like contrasts! And prepare for novelty and surprises, as a group of 120 million first-time voters will be crucial in determining if the current coalition can win what is predicted to be a harsh and close contest.
Historically the dominant force in Indian politics, in power since 2004, is the Indian National Congress – INC, familiarly known as "the Congress" – which is seeking a third consecutive term. But it knows it will have a hard time staying in power. Its bruising defeat in elections held in November 2013 in three big states and the national capital, Delhi, augurs badly for the 128-year-old grand party. Besides Delhi, the Congress lost in the big heartland states of Madhya Pradesh, Rajasthan and Chattisgarh. The defeat threw the INC into disarray, with a senior figure saying the party would lose general elections and needed time in opposition to reinvent itself. Worryingly for the Congress, said analysts, the state elections showed that its welfare programmes, including the 15-billion-euro food security plan for the poor and a jobs guarantee programme, were not enough to retain even its core supporters.
Congress vice-president and potential candidate for prime minister Rahul Gandhi, the 43-year-old scion of India's most famous political dynasty – the influential Nehru–Gandhi family – said he had heard the message from voters and vowed to transform the Congress and to bring in a "young government". Some of his recent initiatives, like opening up the preparation of his party's election manifesto, by appealing to the ideas and suggestions of all Indians, prove Gandhi's resolution to change the rules of the game inside the Congress.
Furthermore, Gandhi – the son of Sonia Gandhi, the President of the Congress and of the late Prime Minister Rajiv Gandhi – took on the old guard of the party's organisation. He publicly opposed an executive order from Manmohan Singh, the 81-year-old prime minister, which would have allowed politicians convicted of criminal charges to remain in office and stand in elections. About 30% of Indian lawmakers across federal and state assemblies have criminal charges against them, and following a Supreme Court order in July 2013, many faced being expelled from their seats, including government allies seen as important for electoral success. Singh has been widely criticised for allowing corruption to spin out of control since he was appointed to a second term in 2009 and for India's sharp economic slowdown.
Will Rahul Gandhi's initiatives be enough to erase voters' fatigue with the Congress and win back support among its traditional electoral base, mainly India's many needy? Will the Congress' secularist agenda and social welfare schemes appeal to the 120 million first-time voters, regardless of its corruption record and internal logic dominated by inherited power? It's far from clear.
Food prices, politically sensitive in Asia's third largest economy, still marked in parts by extreme poverty, soared in 2013 by an annual 14.72 . And that's a big issue in India, as the rising prices of onions have already been blamed in the past for bringing down governments. Add to the woes the contraction in industrial production and the weak economic growth: 5 in the past two years, the lowest level in a decade.
But some of Rahul Gandhi's critics come from his own party. According to Reuters, senior government politicians have expressed frustration with his too forward-looking message, saying that talking about structures, systems and building up Congress in the long term will not make for the necessities of fighting an election in the short term. It looks like a delicate way to suggest that, while he would probably benefit from campaigning alongside his mother and drawing on Sonia Ghandi's authority and public image, inexperienced Rahul lacks the qualities needed to confront his party's main rival, Narendra Modi, the prime ministerial candidate of the opposition Hindu nationalist Bharatiya Janata Party (BJP).
Considered India's most controversial politician and possibly the country's next prime minister, 62-year-old Narendra Modi has turned the 2014 election into a presidential-style race between himself and Rahul Gandhi. Three times chief minister of the economic powerhouse state of Gujarat, Modi ridicules Gandhi by calling him "shehzada", or "prince", as a way of underlying his opponent's privileged upbringing that contrasts strikingly with his own roots as the son of a tea-seller. With a profile far bigger than almost any other politician in India and a media coverage normally reserved for Bollywood A-listers, Narendra Modi projects his personal achievements and pro-business credentials over those of the BJP.
And it pays! Boosted by Modi's energetic campaigning and 2013's big state wins, India's main opposition party aims to ride the momentum for 2014's elections. But the BJP faces the tough job of broadening its appeal beyond traditional northern strongholds. Opinion polls in 2013 have suggested that while the BJP may emerge as the single largest group, it will fall short of the simple majority it requires to rule, despite several attempts to build up its presence in southern and eastern India.
And then, of course, there is the surprise factor. In Indian politics, it is called Aam Aadmi Party (AAP), or the Common Man's Party, whose electoral symbol is … the broom. In the first election it has contested, the local assembly elections in the capital Delhi, in November 2013, this one-year-old anti-corruption party won as much as 40% of the seats up for grabs, compared to around 45% by the BJP, pushing the Congress from first to third place. AAP argues that India needs a new style of politics, one that should ignore factors such as caste and focus on delivery of basic services, honest administration and transparency. For observers, AAP's impressive success in Delhi showed that young voters are seeking an alternative to the big two parties.
It might also be a reminder that, while being projected as a head-to-head battle between the two national parties, the subcontinents' regional parties in the 28 states and seven union territories, part and parcel of the complexity and richness of India's electoral system – will be crucial in deciding who gets the majority of 273-seats in the Lok Sabha, necessary to rule the world's biggest democracy.