Putin says Russia had to help "brotherly" Ukraine
Comments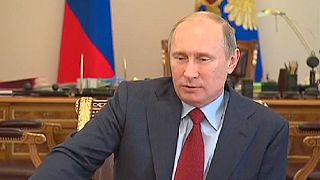 Russian President Vladimir Putin said Russia had to act to help its "brotherly" neighbor
Ukraine out of economic crisis.
He added that Moscow did not oppose Kiev signing a trade pact with Europe as long as it did not harm Russia's economy.
"Now we see that Ukraine is in difficult straits… if we really say that they are a brotherly nation and people then we must act like close relatives and help this nation," Putin said
in an annual news conference.
Missiles not yet deployed to Kaliningrad region
Putin clarified that Russia has not yet deployed Iskander missiles to the western exclave of Kaliningrad in response to an anti-missile shield the United States is building in Europe with help from NATO nations.
"One of the possible responses is to deploy Iskander complexes in Kaliningrad… but I want to draw your attention to the fact that such a decision has not yet been taken, let them be calm" he said.
Poland and Baltic states reacted with alarm to recent media reports saying Russia had deployed Iskanders in Kaliningrad.
Reuters