British railway workers being sprayed with urine and faeces - union
Comments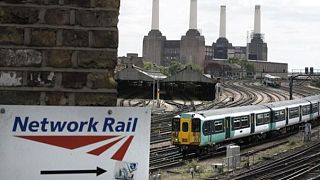 British railway workers are being sprayed with urine and faeces, it's been claimed.
The RMT transport union said some sections of the country's rail network were "like an open sewer".
Some trains are fitted with tanks to retain the sewage, while older models flush waste out directly onto the tracks.
An article published in RMT's December newsletter reads: "RMT has repeatedly pointed out that some sections of the rail infrastructure are like an open sewer and that the human waste doesn't simply hit the track bed, it sprays out when trains are travelling at speed, posing a health risk to staff.
"One notorious spot is Liverpool Street Station where an e-petition was launched by disgusted passengers."
Bob Crow, RMT general secretary, said: "There is no point the government requesting that the private train companies act, they are the one's profiting out of this scandal by allowing it to continue in the full knowledge that it is both dangerous and disgusting.
"The train companies should be forced by the government to pay the price for upgrading the trains and employing staff to empty the tanks."
One worker told the BBC: "A train would be coming and we'd stand back the recommended distance.
"It's not unusual to feel a spray, a kind of mist in the air. That's bad enough, but then you walk back to where you've been working on the tracks there's [faeces] everywhere."
Crow said Greater Anglia, which operates in the east of England, was one of the worst culprits.
A spokesman for the company told national media the problem "will be resolved" as new trains are added to the network and existing trains upgraded.
He added: "A number of our trains already have retention tanks fitted and some additional carriages are currently being upgraded with new toilets and retention tanks.
"We are also looking into the potential options for extending these facilities across the rest of the fleet of trains used on our services in the future."