Where next after China's moon landing?
Comments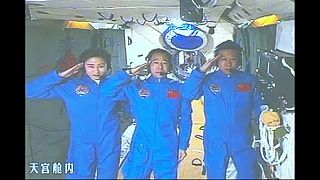 So the Chinese are on the moon, realising a longheld dream, and becoming the third lunar "power" after America and Russia.
The probe Chang'e 3 made the first soft landing in nearly four decades to roll out a rover, Jade Rabbit, that will explore for three months. Chinese pride has soared with the success.
In 1969 Neil Armstrong became the first American to walk on the moon, and only Americans have repeated the feat. The Russians then sent a rover to explore the surface, in 1976. Since then, nothing has gone to our nearest neighbour.
The Chinese have come a long way in a short time, and will not stop here. By 2025 they want to walk on the moon, too, among other things. China's ambitious space programme began in the 1960s, but has only really taken off in the last 20 years, in parallel with the economic boom. The challenges are not only economic.
Apart from international prestige national patriotism is bolstered by these proud exploits. In 10 years, from 2003's first man in space to 2008's first space walk, China has overtaken its pacesetting Asian rival Japan, and newer entrant South Korea. The Shenzhou programme has reaped rich rewards
It has created a new breed of heroes for the People's Republic
and now manned flights are the norm, and increasingly the priority as China bids to have an operational fulltime space station by 2020.
Last June three Taïkonauts, including the first Chinese woman in space, spent 15 days in orbit, a vital stage before placing station modules into the right spot.
Billions of euros are being spent as China seeks to conquer space, prove it is a true superpower, and break the monopoly certain nations thought would go unchallenged for years.
However critics warn the effort is mostly about finding ways to deny enemies the use of their orbital assets if conflict should break out, and not so much about exploration or science.