Healthcare.gov 2.0 sigh of relief for Obama administration
Comments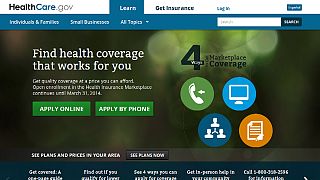 For weeks and weeks, the controversial Affordable Care Act (aka Obamacare) has been a nightmare for the Obama administration. But now a sigh of relief: Two months after the troubled roll-out of the president's signature health care initiative – including a bungled website launch – the US government announced that its online insurance marketplace now functions smoothly for the "vast majority" of consumers seeking to shop for and enrol in coverage.
Obama's point person in charge of fixing the website says the site is able to handle 50,000 users at a time, up to 800,000 per day, and now works normally 90 percent of the time, marking a significant improvement from October when it crashed under the weight of just several thousand visitors.
In a conference call with reporters Jeff Zients, the administration official overseeing repairs to the system said: "We've doubled the system's capacity and HealthCare.gov can now support its intended volume."
The site's response time and error rate for applicants have also vastly improved, he said. "In effect, we have widened the system's on-ramp. It now has four lanes, instead of two."
"The bottom line: Healthcare.gov on December 1st is night-and-day from where it was on October 1st," Zients said, citing improvements that include a technical support centre monitoring the website 24 hours a day.
Some 400 bugs that were harming the website's operation have been eliminated, he said, though he did not provide data on how many people were signing up for insurance.
"We developed a prioritized punch-list of software fixes, hardware upgrades and user enhancements with the prioritisation based on what has the biggest impact on system stability, capacity, speed and user experience," Zients added.
But critics, like large insurance carriers, are not fully convinced. They say there are still problems with the "backend" of the website providing them with accurate customer information. Administration officials are yet hopeful that the worst of the online glitches, bugs and delays may be over.
Healthcare.gov's roll-out in October sent Obama's approval rating tanking and pushed some of his fellow Democrats into open revolt, while sparking an opening for gleeful Republicans opposed to the healthcare reform.
Only about 27,000 people were able to subscribe for insurance via Healthcare.gov in October, according to official figures.
Obama campaigned in 2008 on the promise of insuring some 30 million Americans who had no health cover.
On the Sunday morning CBS television show Face the Nation Democratic Senator Robert Menendez said the online debacle was "the equivalent of having a great item that you want to buy in the store, but not being able to get through the front door."
"It sounds like the front door's been opened successfully now," he said, referring to Sunday's website update.
The website has been far from Obama's only hitch while implementing the hotly-contested legislation, which was derided by Republicans and upheld in the US Supreme Court by a narrow 5-4 vote.