'Home' education: how beneficial is it?
Comments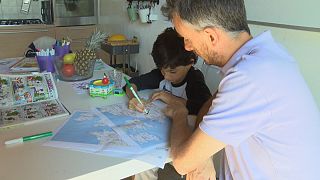 The role families play in the education of their children can have a huge impact on academic achievement. But to what extent should parents be involved?
Home education is perfectly normal in some countries, but for many people doubts remain. Is it really beneficial for children to live and learn in one single environment? Do you need academic skills to educate your own child?
Learning World met up with three families around the world to find out.
Erika Di Martino, Italy
Erika is a former teacher with a degree in languages. Her eldest son had a bad experience at nursery school, so Erika and her husband decided to educate him and their other three children from home.
"To home educate in Italy you simply need to write a letter declaring that you are responsible for your children's education, then send the letter to the local school or to the mayor of your village," she explained.
Her reasons for home schooling are clear: "There are too many people at school. Even the most devoted teacher, one with a true vocation for the profession, does not have the time to take care of each student individually."
To help families who want to find out more about home schooling, Erika has created an online network for parents to share hints and tips, and she recounts her "home schooling experiences" on a blog.
C. Lee and Khris Reed, USA
Some teens have an icy relationship with their parents. But not 17-year-old Hailey and mum C. Lee. The two spend a lot of time together – which Reed credits to her parenting style:
"If you're going to have a child, be there, be with them. Show that they are the most important, other than my marriage. That's kind of what you need to do," she affirms.
Reed started her blog just over a year ago to respond to what she sees as widespread misunderstanding of 'helicopter parents'. The term refers to adults who hover over their children.
Khris and C. Lee keep close tabs on everything in their daughter's life.
"We're involved in pretty much everything. We help her with her schooling. I drive her everywhere – she doesn't have a licence, so we take her all over. I know every one of her friends. I know people that she may only casually know," said C. Lee.
Hailey disagrees with people who say children with protective parents don't develop independence:
"I always hear that a lot. You're not going to know what to do when you get out in the world. But, I feel like they've prepared me for that. (…) I'm still learning and am going to learn. But, for the most part, I'm pretty OK."
Jérômine Derigny, India
From an evening at the historic Gwalior Fort in the heart of India, to a trip to Mumbai's Dharavi – the largest slum in Asia – Jérômine and her family have an exciting year ahead.
She and her family of five have decided to take a year-long trip around the world, educating their children as they go.
To keep up with the school year in France, Indira and Athéna, both 12, must spend a couple of hours each morning completing worksheets from the Centre of Distance Education (CNED) in France.
This method of teaching is not without complications, as Jérômine explains: "I teach them. The CNED helps them keep up with their school work. Homework needs to be sent on a fixed date every three weeks. It becomes difficult while travelling as the homework must be sent on time.
"I find the only problem is with the way I teach the CNED syllabus. The girls say 'you are not a teacher, you do not teach us like a teacher'."
Indira seems to be enjoying the experience, but twin sister Athéna said she prefers the structure of a regular school routine: "There is more structure in school. The teachers have more knowledge of their individual subjects, so they are more clear and concise. It's better like that."
There are clearly pros and cons to home education. If you, your children, or someone you know has benefited from a similar experience, please share it with us on our social media pages.