Yellen in confirmation hearing: US Fed will continue stimulus – for now
Comments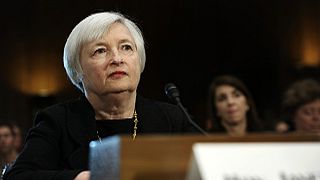 The incoming Federal Reserve chairwoman Janet Yellen assured markets on Thursday that the US central bank does not intend to cut its economic stimulus any time soon.
"Quantitative easing", as the more than $3 trillion stimulus is called, has made "a meaningful contribution" to economic growth following the financial meltdown of 2008, Yellen said during her confirmation hearing on Capitol Hill.
But she also said in response to questions from Republican senators that these stimulus programs "cannot continue forever".
Yellen, who is slated to replace Ben Bernanke as Fed chairman at the end of January, testified before the Senate Banking Committee which has to assess her nomination. Despite protests from the right wing of the Republican Party, Yellen is widely expected to be confirmed for the position given her long-time distinguished career in central banking and monetary policy.
While there was progress in the US recovery, Yellen said the labor market and economy are "performing far short of their potential." She said unemployment at 7.3 percent was still too high and inflation still below target.
She also acknowledged that there is considerable shadow unemployment, due to part-time jobs and people leaving the labor force out of frustration that would push the jobless rate to a point higher than ten percent.
Yellen reiterated the world's No. 1 economy must show continued signs of improvement before the Fed starts tapering off its $85 billion of monthly bond purchases.
Asked about the risks of this massive money injection into the market, Yellen said the Fed does not see any asset bubbles and threats to financial stability right now. She said the Fed would monitor any "asset price misalignments when they are forming" and take action.
Much of the hearing was devoted to the Fed's role as a regulator and supervisor of the financial industry. Democratic Senator Elizabeth Warren urged Yellen to make banking regulation just as a high of a priority as monetary policy.
At one point Warren suggested the Fed plan regularly scheduled meetings to discuss regulation – just like it does to discuss interest rates. "I think that's a very worthwhile idea," Yellen responded.
Yellen's testimony was her first substantive policy remarks since she was nominated for the top job at the US central bank. Currently the No. 2 at the Fed, Yellen has been a strong supporter of the Fed's easy-money policies and led the effort to establish a public two percent goal for inflation.
The Fed's current chairman, Ben Bernanke, helped usher in an era of unprecedented openness at the historically secretive institution. Yellen said that she plans to continue that work if she is confirmed.