Obama announces first presidential visit to Indian Country next year
Comments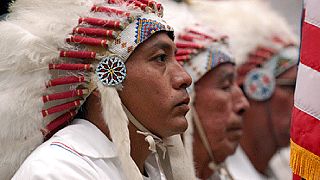 President Barack Obama told Native American leaders Wednesday that he will make his first trip as president to Indian Country next year, expanding on his pledge to enhance the bond between the federal and tribal governments.
"For the past five years, my administration has worked hard to keep that promise – to build a new relationship with you based on trust and respect", Obama said in a speech at the fifth annual Tribal Nations Conference in the Department of the Interior in Washington, recognizing the contributions of tribal communities "to enrich the United States every single day".
At the same time, the United States can do more to give tribes more control over their communities, Obama said. High rates of poverty among Native Americans are "a moral call to action."
In addition, the federal government needs to ensure that Native Americans have access to affordable health care and must help tribes be good stewards of their native homelands, Obama said.
Tribal leaders from most of the 566 federally recognized Native American and Alaska tribes are in Washington this week to participate in the Tribal Nations Conference. That summit and surrounding events allow the tribal leaders to meet and discuss Indian issues with the Obama Administration on government-to-government relationships.
At the conference, US Attorney General Eric Holder deplored the high levels of violent crimes in tribal communities, despite an increase in prosecutions by 54% over the last three years. Still, Native Americans are disproportionately likely to become victims of crimes and violence, Holder said.
"We will not tolerate a world in which nearly half of all Indian women and girls have experienced rape, physical violence, or stalking by an intimate partner, and where Indian women are murdered at a rate that – in some places – is more than 10 times the national average", Holder said.
On Tuesday, Obama met with a dozen tribal leaders at the White House to discuss job creation and economic development in tribal communities.
The meeting provided tribal leaders an opportunity to directly engage with the President on a leader-to-leader, government-to-government basis and to discuss key issues facing Indian Country at the highest level of Government.
During the meeting, Native American leaders raised a wide range of issues they are facing related to job creation, including expanding opportunity for renewable energy on tribal lands, increasing access to capital and foreign direct investment opportunities in Indian Country, the successes of tribal self-determination, improving educational outcomes, and jurisdictional challenges.
Tuesday's meeting had kicked off a week of events hosted by the newly formed White House Council on Native American Affairs in its continued efforts to strengthen the government-to-government relationship between the United States and tribal nations.