Americans honour those who served in all wars
Comments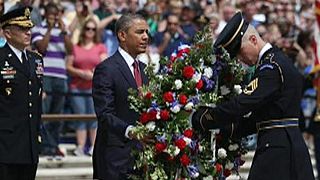 Across the United States, Americans commemorated Veterans Day with parades, wreath-laying ceremonies, monument dedications and other events, reflecting upon the heroism of all who served in their country's armed forces.
These brave men and women did not fight for glory or treasure, but because of their deep belief in universal freedom and liberty – their belief in America. "Veterans fight for their fellow vets and measure commitment in actions, not just words," Secretary of State John Kerry, a highly decorated Vietnam War veteran, said in a statement.
Veterans Day originated as "Armistice Day" in the United States on November 11, 1919, the first anniversary of the end of World War I. Congress passed a resolution in 1926 for an annual observance, and November 11 became a national holiday beginning in 1938.
In 1954, President Dwight D. Eisenhower, a famous veteran himself, signed legislation to change the name to Veterans Day as a way to honour those who served in all American wars.
Today that means World War I and World War II, the Korean War, the Vietnam War, the wars in Afghanistan and Iraq and all military engagements over the last decades from Grenada to Lebanon, from Bosnia to Somalia.
The day honored military veterans with events across the nation. President Barack Obama paid tribute to America's veterans by laying a wreath at Arlington National Cemetery in Virginia and by hosting a breakfast at the White House for those who have served in the military, and their family members.
In his Veterans Day proclamation, Obama said that the courage, self-sacrifice and devotion of veterans represent the American character at its best, and he encouraged everyone to honour every service member who has ever worn the country's uniforms.
Obama also reminded the nation that the country's obligations to those who have served "endure long after the battle ends", despite continued budget pressures. "As commander-in-chief, I will keep making sure we are providing unprecedented support for veterans," Obama said. "Even as we make difficult fiscal choices as a nation, we will keep making vital investments in our veterans."
In his weekly address over the weekend, Obama had highlighted the importance of providing education as one chief example. "We're also committed to giving today's veterans and their families the same shot at a great education this country gave my grandfather when he came home from World War II."
Besides education, the veterans' problems of finding adequate jobs after their service, is another concern for the administration. In an op-ed published by military publications, First Lady Michelle Obama and Jill Biden, the wife of Vice President Joe Biden, criticized US companies for not hiring veteran and military spouses because of outdated, inefficient licensing and credentialing requirements.
"It is simply unacceptable that men and women who serve this country so bravely abroad often struggle to find a good job once they return home," they wrote. The first ladies stressed that veterans are some of the most highly-skilled, hardest-working employees around. "They thrive in fast-paced, high-pressure environments, and they've got extensive experience building teams, managing complex logistics, and dealing with cutting-edge technology", the first ladies wrote.
Michelle Obama and Jill Biden are spear-heading "Joining Forces", a national initiative to mobilize all sectors of society to give service members and their families support in areas like employment, education, and wellness.
According to the latest American Community Survey, there are 21.2 million military veterans in the United States, 1.6 million of them are women and 1.8 million are younger than 35.