Portugal: pioneer of decriminalisation, an example to follow?
Comments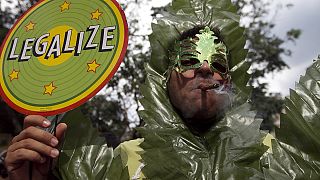 Drug users
Before the 1974 revolution, drug use was not a major issue in Portugal. The previous reign of an authoritarian dictatorship between 1926 and 1974 meant Portuguese society was completely isolated from events in other countries. After the revolution however, thousands of soldiers and colonists came back from Africa, many of whom had already developed drug habits and brought with them large quantities of illegal substances.
At that time drugs started to be associated with the notions of free expression and independence; more and more people experimented with illegal substances. But the following decade was marked by the appearance of HIV/AIDS and made drug consumption the most pressing problem in Portugal. Generations were devastated by addiction, high levels of drug-related crime and by syringe-borne diseases.
According to a 2012 national survey, drug use increased between 2001 and 2007, before a slight decrease over the next five years to 2012.
In recent years there has been an increase in the market – as witnessed on a European level – for new kinds of psychoactive substances, known as "legal highs". New varieties emerge quickly and are becoming increasingly popular because they are cheaper and easily accessible compared to illegal drugs.
The most common drugs
The 2012 survey revealed, alcohol, tobacco and general medicines were the most commonly taken legal 'drugs' in Portugal.
The most commonly taken illegal drug was cannabis. The study reports that 8.3% of Portuguese people have tried it. Ecstasy comes in at second place with a prevalence rate of 1.1%, followed by cocaine at 1%.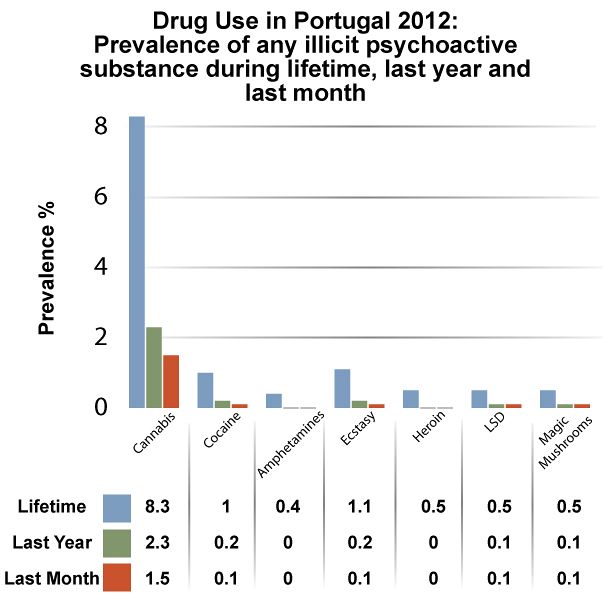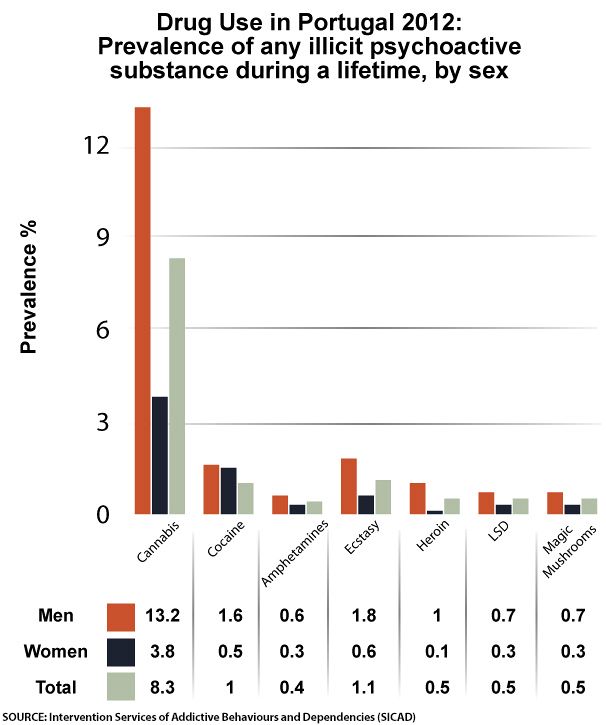 Most affected groups
According to the 2012 survey, the highest prevalence of drug use occurs among those aged between 15 and 44 years. Among the 25-34 age group, the lifetime prevalence (the drug has been taken once or more) of cannabis is 16.2%, ecstasy 2.5% and psilocybin or 'magic' mushrooms 1.2%.
Cocaine, on the other hand, is taken by nearly the same proportion of people in the 25-34 group (1.7%) as the 35-44 age range (1.8%). Amphetamine use had a similar distribution with a rate of 0.8% for the 25 to 34-year-olds and 0.7% among the 35 to 44-year-olds. Heroin use was significantly higher among those aged 35 to 44 (1.4% compared to 0.4% with 25 to 34-year-olds)

Prevention and treatment
National prevention methods in Portugal focus on the reduction of supply and demand for drugs as well as working on a social and medical level. Action plans are developed based on diagnostic studies and through monitoring projects that have been implemented.
In the context of school populations, the results show that drug use – which had been rising since the 1990s – decreased for the first time in 2006 and 2007, though there was an increase in 2010. There are a variety of other programmes, such as preventative programmes in the workplace. Each year an average of 91,015 individuals participate in the programmes, at cost of around €3.50 per individual.
Since 1998 drug substitution treatments have been in place in the country, allowing drug addicts to take methadone or buprenorphine with a medical prescription, substances that allow them to replace heroin and calm withdrawal symptoms. In addition to that, in order to reduce rates of HIV infection, a needle exchange programme was set up. Programmes are also present in prisons where inmates have the same access to treatment as other citizens. Outpatient services are mainly provided by the state, whereas residential treatment is usually offered privately.
According to an external evaluation of the National Plan Against Drugs and Drug Addiction, the number of clients in treatment increased from 30,226 in 2004 to 38,292 in 2011. In 2011 the number of clients receiving treatment for alcohol addiction almost equalled the number of people receiving treatment for illicit drug use.
A new strategy, which will be implemented over the next seven years, includes separate initiatives targeting drugs and alcohol and treatment for other addictive behaviours. The aim is to reduce all types of dependency across all ages. With regards to drug use, the strategy expects to achieve a reduction of 10% over the next three years.
Police
In July 2001, Portugal became the first European country to decriminalise the use and possession of all illicit drugs."Decriminalisation" applies to the purchase, possession, and consumption of all drugs for personal use, "not exceeding the quantity required for an average individual consumption during a period of 10 days". This means that people found with low quantities of drugs will not receive a criminal punishment.
Those who are found to be in possession or under the influence of drugs are brought before a 'dissuasion commission' made up of lawyers, judges and health care or social service workers. They can authorise a zero penalty or recommend treatment, making their decision from a health perspective. A small fine is also an option, although it is often seen as a last resort.
In the absence of any evidence of addiction the fine can be suspended or, if the offender is found to be an addict but "agrees to undergo treatment", the dissuasion commission usually provisionally suspends proceedings.
Drug trafficking, however, continues to be prosecuted as a criminal offence. Dealers and traffickers are still arrested and jailed. Supplying drugs to a child or to a person with a mental illness also remains illegal; the punishment of imprisonment ranges from 4 to 12 years.
There are also other kinds of punishments for those who are caught in possession of or under the influence of drugs. Article 17 allows the dissuasion commission to impose a variety of measures which can include a suspension of the right to practice a licensed profession, a ban on visiting high-risk areas or associating with specified individuals or an obligation to provide periodic reports to the commission to prove there is no ongoing addiction. The decision depends on the seriousness of the act, the type of drug that was taken and whether the use was occasional or habitual.