UK: outbreak of false black widow spiders prompts school to close
Comments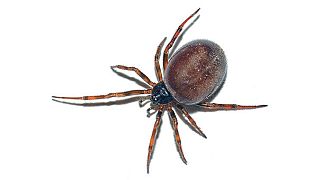 A British school has been forced to close for the day – because of an outbreak of Britain's most venomous spider.
The Dean Academy in Gloucestershire has shut down after "identifying an issue" with false widow spiders.
The school was shut to allow pest controllers to fumigate the site.
Experts say the chances of being bitten by a false black widow were extremely low and no-one had ever died from a spider bite in the UK.
The Natural History Museum's Insect Information Service said: "There are 640 species of spider in the UK. Only 12 of these have been known to bite humans in the UK.
"The severity of symptoms from any spider bite depends on the amount of venom that is injected. False widow spider bite reports include symptoms such as chest pains, swelling and tingling of fingers."
A succession of mild winters in the UK has seen the survival of such creatures increase, especially along the south coast of England.
Craig Burns, vice principal of The Dean Academy, said: "We have identified an issue with 'false widow' spiders in the academy. We have taken the decision to close the academy all day on Wednesday 23rd October 2013 in order that the appropriate pest control work can be undertaken. We are advised that it will be safe for students to return to school on Thursday 24th October.
"Please accept my sincere apologies for any inconvenience this may cause you but I'm sure you will understand that this is in the best interest of students' health and safety"