China says Tibet's flourishing and its people are happy
Comments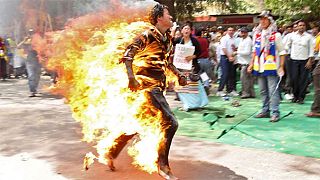 China says Tibetan people are "happy and healthy" and it will not alter its "correct" policies in the region.
In a lengthy policy paper carried by the official Xinhua news agency, the government said Tibet had achieved a great deal under Chinese rule.
China claims it "peacefully liberated" Tibet and introduced democratic reforms in 1950.
But tensions in the remote region are at their highest in years – 120 Tibetans have set themselves on fire since 2009 to protest.
Tibetan exiles and rights groups say China tramples on the country's culture, religion, language and environment, and has committed grievous abuses to ensure their rule.
China's policy paper said: "Today's Tibet is developing economically, making progress politically, has a flourishing culture, a harmonious society and a good environment; its people are happy and healthy."
It added: "Tibet's development cannot be separated from this correct path.
"There are some others in the world who intentionally distort the past and present of Tibet due to their ideological bias or out of consideration for their self interests. They created a 'Shangri-La' myth, wishing to keep Tibet in a backward primitive state forever."
China's policy statement comes as activists protested in Geneva, urging members states to block the election of the Asian superpower to the Human Rights Council in November.
Students for a Free Tibet set four of its members were being held following the protest.
Chinese foreign ministry spokeswoman Hua Chunying, said: "We are willing to work with other parties in the spirit of equality and mutual respect to conduct human rights dialogue and cooperate in advancing China's human rights situation."
China is not currently among the 47 members of the United Nations Human Rights Council, which has a rotating membership.
The Geneva forum was examining its record on Tuesday as part of its periodic review of each UN member state every four years.