Saudi Arabia declines UN seat based on realpolitik, with moral twists
Comments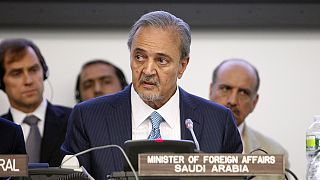 Saudi Arabia has become late history's first country to say "no" to the prestigious seat offered to it in the United Nations Security Council. The reason it has given for this combines political and moral criticism.
Saudi Arabia said the Council must reform, because it uses double standards and does not do its job, which is to foster world peace. Voicing their dissatisfaction in an increasingly public manner, the Saudis have pointed out repeatedly the Council's impotence over the current Syria conflict and in the long-standing Israeli-Palestinian conflict.
Their decision not to take up a seat with the others on January 1 implies an attitude of 'noblesse oblige'. The Saudis did not specify what reforms it found to be lacking.
The Council has 15 member countries. Five of these are permanent members with the power to veto proposals — the United States, Russia, China, Britain and France. Ten members are non-permanent and do not have veto power; the General Assembly elects these countries for two-year terms. There is a vote every year for half the rotating members. The latest vote confirmed to Council the following quintet: Lithuania, Nigeria, Chile, Chad and Saudi Arabia.
The race to win nomination as a candidate for a seat — regional groups nominate candidates — is often highly competitive. This time none of the nominations by region were contested.
As a consequence, the outcome drew a brand of criticism different to that of Saudi Arabia toward the Council's inability to act because a member who disagrees with the others on a matter can block the endorsement and enforcement of a resolution. The United Nations director for Human Rights Watch, Philippe Bolopion, denounced the election of Chad, Nigeria and Saudi Arabia. He recoiled at the recruitment of children by Chad to fight as soldiers, saying this placed it in the UN list of shame. He blasted Nigeria for "chronic abuse by security forces". And he lashed out at Saudi Arabia questioning its moral authority as long as it continues "its crackdown on human-rights activists" and institutionalises double standards depriving women the full rights of Saudi men.
Bolopion said: "The prestige of a seat at the world's foremost diplomatic table should prompt the new members to get their house in order."
The executive director of Geneva-based human rights group UN Watch, Hillel Neuer, also accused the Saudis of helping to protect Sudan's President Omar al-Bashir, who is wanted by the International Criminal Court for war crimes and crimes against humanity in Darfur.
All of this underscores a dark irony in the name of the 193-nation organisation: 'United'.