Apple beats Coca-Cola to become world's most valuable brand
Comments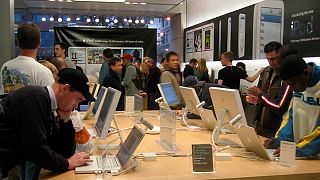 Apple has taken over from Coca-Cola to become the most valuable brand in the world, according to the Interbrand annual report. Coca Cola is now in third place, behind Google. It is the first time that the brand has dropped below first place.
Released on Monday, Interbrand has compiled what it calls the "Best Global Brands" report each year since 2000, based on criteria that include financial performance.
In 2012, Apple was number two in the list, moving up from position eight in 2011. The report begins with a dedication to the company:
"Every so often, a company changes our lives, not just with its products, but with its ethos. This is why, following Coca-Cola's 13-year run at the top of Best Global Brands, Interbrand has a new No. 1 – Apple."
In the report, the Apple brand is valued at approximately 72.7 billion euros – an increase of 28 percent on the 2012 report. Coca-Cola's value also rose, but not enough to stay in top place.
Jez Frampton, global chief executive at Interbrand praised Coca-Cola for being "an efficient, outstanding brand marketer," but claimed that Apple and other leading technology brands are now "very much the poster child of the marketing community."
This shift is reflected in the results of the report, with five of the top-ten brands being technology companies: Apple; Google; Microsoft (number five, unchanged from 2012); Samsung (at eight, compared with nine in 2012); and Intel (at nine, compared with eight in 2012). Arguably there is also a sixth 'technology' company in the top ten list, IBM – considered here as a business services brand – it is ranked fourth, down one from 2012.
"Brands like Apple and Google and Samsung are changing our behavior: how we buy, how we communicate with each other, even whether we speak with each other," Frampton said. "They have literally changed the way we live our lives."
The top ten "Best Global Brands" are as follows:
1. Apple
2. Google
3. Coca-Cola
4. IBM
5. Microsoft
6. GE
7. McDonalds
8. Samsung
9. Intel
10. Toyota