Greece: Anti-racism rapper stabbed to death in cafe brawl
Comments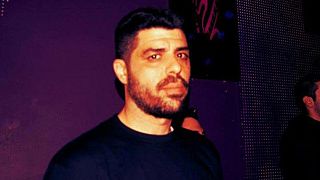 Greek police searched the Athens offices of the Golden Dawn party on Wednesday after a 35-year-old anti-racism rapper was stabbed to death by a man who sympathises with the far-right group.
A 45-year-old man was arrested and admitted to the killing, police said. Greece's citizen protection minister the suspect was a Golden Dawn sympathiser.
The police said the offices of a political party were being searched for evidence linking it to the attack, but stopped short of naming Golden Dawn.
Pavlos Fissas, who went by the stage name Killah P, was stabbed twice in the heart and chest on Tuesday night in a brawl after a soccer match shown in a cafe in Keratsini, a working-class suburb of Athens.
The killing immediately touched a nerve in Greece, with government officials, political parties and anti-fascist groups quick to blame Golden Dawn for the attack.
The co-ruling PASOK party wrote to the parliament speaker repeating its call for the party to be banned.
"The abominable murder in Keratsini by an attacker sympathising with Golden Dawn, according to his own statement, illustrates, in the clearest way, the intentions of neo-Nazism," Citizen Protection Minister Nikos Dendias said.
Golden Dawn, Greece's third most popular party, condemned the killing and denied accusations by "wretched sycophants" of any involvement. The attacker was due to appear before a prosecutor later on Wednesday.
"(The accusers) are miserable and wretched not only because of their brazen lies and slander but because they are exploiting a tragic event for politicking, to win votes and to divide Greek society," the party said in a statement.
Trade unions, anti-government groups and others have called a rally against the killing from 5 p.m. (1400 GMT) at a square near where Fissas was stabbed.
"The government of (Prime Minister Antonis) Samaras is the instigator by allowing murderous Golden Dawners to roam around unpunished and armed with knives," said
KEERFA
, the United Movement Against Racism and the Fascist Threat.
"It's time to punish the neo-Nazi murderers of Golden Dawn and to throw the Samaras government – a miserable gang of bankers, the troika (of international lenders) and neo-Nazis -into the trash."
Golden Dawn, with an emblem resembling a swastika, rose from obscurity to win 18 seats in parliament in elections last year on a fiercely anti-immigrant agenda. Its members have been seen giving Nazi-style salutes but it denies the neo-Nazi label.
"We were the first to condemn the raw violence that stems from the Golden Dawn area," the government's spokesman, Simos Kedikoglou, said in a statement about the attack. "We were the first to call them neo-Nazis. Violence will not tolerated."
REUTERS