Debate stalemate: Merkel still ahead after holding off Steinbruck challenge
Comments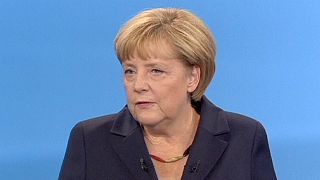 The first televised debate in the build up to the German general election between current Chancellor Angela Merkel and leading opposition candidate Peer Steinbruck is widely seen as having ended in a stalemate.
Neither candidate managed to deliver a knockout blow to their rival, but it's Chancellor Merkel who will be the more satisfied party, maintaining the status quo in the polls.
Proudly displaying the German colours on her necklace, Chancellor Merkel highlighted her previous economic triumphs as the key component of her campaign:
"We can simply tell the people in this country that we can achieve further progress. The work is of course not over yet, there are many worries, and many woes but we have shown we can do it, and that at a difficult time, during which we had one of Europe's biggest crises, that Germany is strong, Germany is a growth motor, Germany is an anchor for stability and I want to continue on this path and I think what we have shown really convinces people."
Regardless, her opponent, Social Democrat candidate and former Finance Minister Steinbruck put in a solid performance, managing to criticize the Chancellor without seeming aggressive.
He focused on the issue of social justice; claiming the country had come to a 'standstill'. Among his agenda's was the argument for a minimum wage of 8.50 euros an hour for the seven million Germans currently earning less than that:
"The minimum wage Angela Merkel wants as the minimum limit of earnings is something very different from a nationwide minimum wage by law. It's a carpet of different pieces between one branch and another, different from one region to another. And overall there are many people who are paid according to the tariffs. But they earn less than 8.50 euros an hour. And they won't get more. They are the losers of the CDU/CSU's plans."
Speaking to Euronews, Der Spiegel journalist Rene Pfister said that Steinbruck had succeeded in countering the Chancellor's claims that all was well in the country. But that the relative economic stability in Germany presented a problem for Steinbruck in trying to find holes in Merkel's armour:
"Merkel's key is that anything that could be an issue she's very much on top of. Anything that could cause a stir – such as minimum wage. There's no mood for change."
He went on to say the idea of a coalition between Merkel's Christian Democrats and the SDP would be a remote possibility – that the SDP were still "traumatised" from their last foray into power, as they "weren't seen as responsible for any of the government's successes."
Merkel is currently sixteen points ahead in the polls, and remains a firm favourite with the German voters. The debate was watched by around fifteen million people, and saw more Twitter activity than anything previous in Germany, but with three weeks until voting begins, Steinbruck may not have won enough of them over to make a dent in Merkel's campaign.