Diana Nyad becomes the first to swim Florida Straits without shark cage
Comments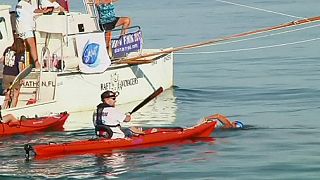 American Diana Nyad has become the first to swim from Cuba to Florida without a shark cage.
Nyad, 64, who was making her fifth attempt at the 177-kilometre (110-mile) crossing, completed the Havana-to-Key West challenge in 53 hours.
An earlier post on her website revealed she was "really hurting" at eight kilometres (five miles) from the finish line. Doctors aboard a support vessel said Nyad's tongue and lips were swollen causing her speech to be slurred, and raising concern about her breathing, the blog reported. Nyad was also "very cold" and had canceled scheduled feeding stops overnight "in the hopes that swimming would keep her warm".
Video: Diana Nyad finishes her record swim

It was initially estimated it could take up to three days to complete the swim which she started on Saturday, but Nyad was benefitting from a favorable current, her crew members said.
For this challenge she has been using a silicone mask to protect her from the poisonous jellyfish that forced her to end one of two attempted crossings last year.
Nyad's fifth attempt to make the crossing comes 35 years after she made her first go at it aged 28 in 1978 , when she gave up after covering 76 miles in 42 hours, with the aid that time of a shark cage.
Her long-distance accomplishments include swimming around the island of Manhattan in 1975 and a swim from the Bahamas to Florida in 1979.
The treacherous Florida Straits has been conquered only once, by Australian Susie Maroney, who used a protective cage at age 22 during a 1997 swim. The cage glided on ocean currents and enabled Maroney to make the journey in just 25 hours.
Australian endurance swimmer Chloe McCardel abandoned her quest in June to make the crossing after she was severely stung by a jellyfish 11 hours into her attempt.