Razor wire risks of possible Western military action in Syria
Comments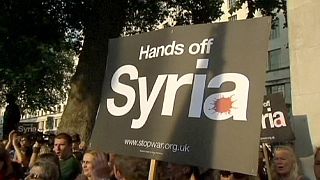 Western warplanes have joined the macabre diplomatic dance around Syria. The Incirlik air base in Nato member Turkey, for instance, is seeing increased activity. This is while military and political powers consider the pros and cons of engaging their own forces in the conflict.
They are keen to avoid traps in a civil war which has such a far-reaching destructive potential, regionally or globally.
The extended death toll and material fortunes spent in Iraq bear scrutiny; the rhetoric of ten years ago resonates with today's.
US Secretary of State Colin Powell in 2003 said: "What you will see is an accumulation of facts and disturbing patterns of behaviour. Saddam Hussein and his regime are concealing their efforts to produce more weapons of mass destruction."
Today's Secretary of State John Kerry said: "What we saw in Syria last week should shock the conscience of the world. By any standard, it is inexcusable and — despite the excuses and equivocations that some have manufactured — it is undeniable."
Powell: "Instead of cooperating actively with the inspectors, Saddam Hussein and his regime are busy doing all they can to ensure that inspectors succeed in finding absolutely nothing."
Kerry: "The Syrian regime has failed to cooperate with the UN investigation, using it only to stall and to stymie the important effort to bring to light what happened in Damascus in the dead of night."
US Secretary of State Colin Powell in 2003… John Kerry today… US public opinion eventually reproached the Bush government for the war in Iraq – lured with lies into quicksand; British feeling has been even less forgiving – it is condemning – and the Cameron government is cautious.
Mostly civilian rebel forces in Syria who turned to arms some two years ago have an increasingly uncertain hold in Syria now. Those that are firmer, better funded and organised, are jihadist groups such as al Qaeda. Both those of civilian origin and the Islamist extremist-based groups compete for control of territory and population. Moderates fear al Qaeda as they fear Assad.
An additional asymmetrical risk comes from Iran, backing Hezbollah in Syria, saying it would meet a Western strike against Assad by moving against Israel. There, the government is remaining relatively neutral, while equipping its alarmed people for the possible consequences of an Iranian backlash.