Moscow mayor hopeful wants to 'ban gay blood' and offer conversion 'therapy'
Comments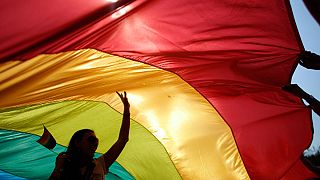 Mikhail Diegtiariov, a mayoral candidate in Moscow, wants to ban homosexuals from donating blood.
Diegtiariov, who is running for the nationalist LDPR party, wants to amend the existing law by reintroducing homosexuality to the list of contraindications for giving blood. The official stance is that the new measures aim to combat the AIDS epidemic. The politician told a news conference that 65 percent of all HIV-positive people are homosexuals, but he did not give a source of the statistics.
Speaking to Russia's lower house, the Duma, Diegtiariov also proposed a new initiative offering free psychological therapy designed to help homosexuals "return to a normal life and become heterosexual, as are 95-99 percent of citizens". The "therapy" would be anonymous and offered on a voluntary basis.
The latest proposals come amid global debate about Russia's lesbian, gay, bisexual and transgender (LGBT) rights. In June a new law was passed that banned "homosexual propaganda" which imposes heavy fines for providing information about homosexuality to under-18s. Many Western countries have condemned the law, with several organisations calling for a boycott of the Winter Olympic Games in Sochi 2014.
Diegtiariov told reporters that he was not personally against gay pride events if they do not infringe on the new law: "The law presumes that they should not hold gay pride events when children can see them. But it is very possible to hold them at night, with flashlights and without amplifiers," Degtyarev explained.
The propositions contrast to those of fellow candidate Alexei Navalny who has said he would allow LGBT rallies if elected. "The constitution says that everyone can (demonstrate), and the mayor of Moscow cannot forbid this…If everyone is clothed and marches in an orderly way with their slogans, I do not care at all what their sexual orientation is, where they are going and what they are saying."
Navalny, a prominent Kremlin critic, was allowed to run despite facing charges of embezzlement which his supporters say were fabricated. Some say his candidacy was permitted to add legitimacy to what is effectively a one horse race.