The decline of the city of Detroit is a clear example of the rapid effects of deindustrialisation. In the 1950's it was the capital of the American automobile industry, providing employment to many of its 1.8 million citizens. Today it is a city of just over 700,000 suffering from severe urban decay, high rates of poverty and with a local government forced to file for bankruptcy.
Large areas of the former motor metropolis lie derelict, with many buildings from the city's glorious past now crumbling before the eyes of its citizens.
The bankrupt city government has debts of 19 billion dollars and has gone from the American city with the highest GDP per capita in 1960 to having some of the highest crime rates and levels of poverty. Police cutbacks and large numbers of former middle-class residents moving to the suburbs and beyond have been major contributing factors
The situation the city finds itself in today did not happen overnight. The decline in the motor industry is considered the main reason for the city's demise. The three major manufacturers, General Motors, Ford and Chrysler began to move their operations to other locations across the United States in an attempt to avoid the power of the city's unions and the strict labour laws.
The need for fewer numbers of workers in the factories due to the modernisation of technology were also major contributors. Fewer jobs forced residents to move elsewhere and subsequently fewer taxes were paid to the badly managed city government. Cutbacks were introduced, which further enticed residents to move away.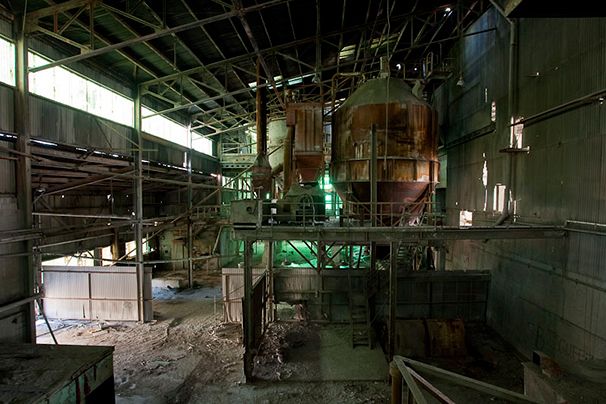 Statistics for the city demonstrate a bleak situation. Between 2000 and 2012, Detroit lost 250,000 residents. Unemployment stands at 16% and it has the highest violent crime rate in the United States. Almost 80,000 structures and 66,000 lots are left abandoned. Basic city services have been affected with around 40% of street lights not working. Of the 317 parks that the city once managed only 107 remain. An uncertain future lies ahead for Detroiters.
Websites depicting the urban decay in Detroit are the best way of seeing the fall of the city. Detroit Urbex is one example. The group behind the project say they created it "to raise awareness of the social and economic challenges the city of Detroit faces through photography."
Visit the Detroit Urbex website for more information on the project: