Bradley Manning says 'sorry' in WikiLeaks case
Comments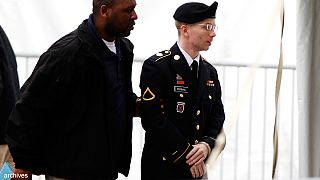 Bradley Manning, the convicted US Army Private behind the biggest breach of classified data in the history of the United States has apologised for his actions.
He told a military court at Fort Meade in the state of Maryland that he was "sorry" for giving war logs and diplomatic secrets to the WikiLeaks website while working in Iraq as an intelligence analyst three years ago.
The 25-year-old faces up to 90 years in prison for providing over 700,000 documents, battle videos and diplomatic cables, which put the infamous website and its founder Julian Assange under the spotlight. On July 30, he was convicted of 20 charges, including espionage and theft; however he was not convicted of the most serious crime, that of aiding the enemy. Sentencing by Judge Colonel Denise Lind is expected next week at the earliest.
Manning told the court: "I am sorry for the unintended consequences of my actions. The last few years have been a learning experience." He added that he "should have worked more aggressively inside the system", that he cannot "go back and change things" and understands that he "must pay a price" for his decisions.
WikiLeaks have claimed on their website that the US Army Private First Class was "forced" to apologise. They also believe "Mr Manning's apology is a statement extorted from him under the overbearing weight of the United States military justice system. It took three years and millions of dollars to extract two minutes of tactical remorse from this brave soldier".
Prosecutors in the case argued that Manning was an arrogant soldier who helped al-Qaeda militants and damaged the United States.
Defence lawyers rested their case after Manning's apology. They have been seeking a lighter sentence.
Among witnesses at the hearing were mental health professionals. Psychologist, Captain Michael Worsley, who treated the 25-year-old during his deployment in Iraq said that Manning, who is homosexual, was suffering from stress related to his job and because he worked in a "hyper masculine environment". Further to that he felt isolated because of a gender identity issue, which "does not go hand in hand" with the military.
Forensic psychiatrist, Navy Reserve Captain David Moulton, explained how he had diagnosed Manning with narcissism, obsessive compulsive behaviour and gender dysphoria. He also suffered from stress and said that the soldier "was under the impression that the information he was giving was going to change the way the world saw the wars in Iraq and Afghanistan". He added that Manning "thought it would lead to a greater good" and that "society as a whole would come to the conclusion that the war wasn't worth it".
Bradley Manning has been described as an internet expert and potentially faces decades behind bars for his actions.