Bangladesh: Islamist leader sentenced to 90 years in prison
Comments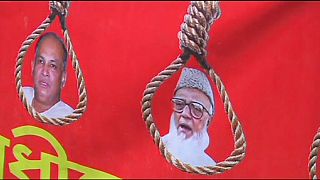 Islamist leader Ghulam Azam has been found guilty of crimes against humanity during Bangladesh's 1971 war of independence and has been sentenced to 90 years in prison.
On Monday the 91-year-old former chief of the Jamaat-e-Islami Islamist party was found guilty by the so-called International Crimes Tribunal of Dhaka of 61 charges under fives categories including conspiracy, incitement, planning, abetting and failing to prevent murder. The tribunal decided to spare Azam the death penalty due to his advanced age and state of health, whereas it already convicted three other Jamaat leaders to death and sentenced one to life in prison, according to the news agency Reuters.
The accusation compared Azam to Adolph Hitler for his role as a guide in the massacres and crimes against humanity during the nine-month war that led to the creation of Bangladesh, according to the news agency AFP. The Islamist leader's defence said the charges have not been proven and they are contesting the court's verdict.
"We did not get justice. We will appeal against the verdict," defence lawyer Saifur Rahman told reporters.
When the verdict was announced, deadly street violence erupted across Bangladesh where Jamaat activists, armed with homemade bombs, clashed with police firing rubber bullets. The Islamist party called for a nationwide strike, claiming that these trials are created to eliminate the leaders of the Jamaat-e-Islami party, key of the opposition against the current government in Bangladesh.
Its tragic to know that fake tribunal has sentenced Prof Ghulam Azam for 90 years in prison without any legitimate proof and reason.

— Syed Munawar Hasan (@SMunawarHasan) July 15, 2013
This is the fifth verdict since January and over 100 people have been killed in the protests against these decisions by the International Crimes Court, which was created in 2010 by the Bangladeshi government to try people suspected of crimes under international law. The tribunal, which unlike other war crimes courts is not endorsed by the United Nations, has been criticized by Human Rights Watch who said the procedures do not meet international standards.
Ghulam Azam is seen by many as a spiritual leader and an Islamic thinker. During the 1971 war between Bangladesh and Pakistan, Azam was strongly opposed to Bangladesh's independence saying it would divide the Muslim community. His defence lawyers said the charges against him are based on newspaper reports of his speeches during the war and have not been proven. Azam and other Jamaat leaders have denied involvement in abuses and crimes.