Back in the Day: Rosetta Stone discovery
Comments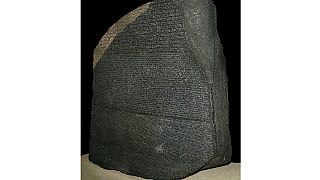 July 15, 1799. The Rosetta Stone is found by French Captain Pierre-François Bouchard during the Napoleon's Egyptian Campaign in the village of Rosetta, in Egypt. The Rosetta Stone is an ancient Egyptian granodiorite stele inscribed with the Decree for Ptolemy III, the third Memphis decree, issued at Memphis in 196 BC. The decree appears in three scripts: the upper text in Ancient Egyptian hieroglyphs, the middle portion is Demotic script and the lower is Ancient Greek. The three portions present essentially the same text and allowed for the modern understanding of hieroglyphs. The stone was originally displayed in a temple and later moved to be eventually used in the construction of Fort Julien near the town of Rosetta in the Nile Delta. In 1799, it was discovered by Captain Pierre-François Bouchard during the French expedition to Egypt. As the British troops defeated the French in 1801, the stone came into British possession under the Capitulation of Alexandria. It has been on public display at the British Museum of London since 1802, becoming the most visited object in the museum.
Also on July 15: Aleksei Chirikov sight land in Alaska and sends men ashore, making them the first Europeans to visit Alaska (1741); Napoleon Bonaparte surrenders (1815); The stratovolcano Mount Bandai erupts killing approximately 500 people in Japan (1888); Emil Kraepelin gives a name to Alzheimer's disease after his colleague Alois Alzheimer (1910); The Nintendo Entertainment System is released in Japan (1983); Serial killer Andrew Cunanan guns down Gianni Versace outside his home in Miami, Florida (1997); AOL Time Warner disbands Netscape and the Mozilla Foundation is established on the same day (2003).
Born on July 15: Rembrandt (1606), Walter Benjamin (1892), Jacques Derrida (1930), Eddie Griffin (1968).