Back in the Day: Billy the Kid's death
Comments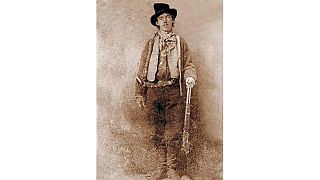 July 14, 1881. Billy the Kid, born William Henry McCarthy and later known as William H. Bonney was shot by Sheriff Pat Garrett on July 14, 1881. The Kid was born from impoverished Irish immigrants on November 23, 1859 in New York. His family then moved to New Mexico where his mother died when Billy was 15. Abandoned by his step father, the Kid soon joined a gang of outlawed. He killed his first man, Frank Cahill, in a barroom brawl at the age of 17 and started his life on the run, changing his name to William H. Bonney. After the murder of John Tunstall, one of his friends, the Kid and other loyalists to Tunstall created a cowboy army, The Regulators, to avenge their dead friend. The face-offs between the Regulators and the town's officials became known as the "The Lincoln County War." After being caught several times and always miraculously escaping, the Kid is shot by Sheriff Pat Garrett, a former friend of his. Many versions of how the shooting occurred have been reported and it is also said that Billy did not die that night. His body is buried at the Fort Sumner cemetery between his two friends, Tom O'Folliard and Charlie Bowdre.
Also on July 14: Louis VIII becomes King of France (1223); French citizens storm the Bastille marking the beginning of the French Revolution (1789); Citizens of Paris celebrate the constitutional monarchy and national reconciliation in the Fête de la Fédération during the French Revolution (1790); All political parties are outlawed in Germany except the Nazi Party (1933); Proclamation of the Law for the Prevention of Hereditarily Diseased Offspring that calls for the compulsory sterilization of any citizen who suffers from alleged genetic disorders in Nazi Germany (1933); The George Washington Carver National Monument becomes the first United States National Monument in honor of an African American (1943); Rawya Ateya takes her seat in the National Assembly of Egypt, becoming the first female parliamentarian in the Arab world (1957); In the United States $500, $1,000, $5,000 and $10,000 bills are withdrawn from circulation (1969); Capital punishment is abolished in Canada (1976); French President Jacques Chirac escapes an assassination attempt (2002).
Born on July 14: Poliziano (1454), Ferdinando II de' Medici (1610), Gerald Ford (1913), Nancy Olson (1928), Bebe Buell (1953).