Hunger games of Royal Baby festivities
Comments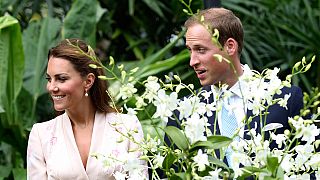 Consumers will spend £87million on festivities celebrating the royal birth, according to a report published by the Centre for Retail Research.
The report produced by the Nottingham organisation estimates that the royal birth will, "benefit retailers as a whole by £243 million over the next two months."
Professor Joshua Bamfield, Director of the Centre for Retail Research told euronews that his research indicates that of this estimated £243, "consumers will spend a whopping £87 million on festivities celebrating the royal birth; £25million alone is predicted to be spent on food for small scale celebrations over the eight-week period from 1st July to 31st August 2013."
His research also predicts that 4.8 million consumers will part with £62 million for alcohol for their royal baby celebrations over the same period.
The centre has also carried out research into other royal events such as the royal wedding and royal jubilee.
Professor Bamfield admitted that the royal wedding itself had a "much bigger impact, of more than £500 million." However unlike the jubilee and to some extent the royal wedding there are not any official events planned, apart from the royal gun salute after the announcement of the birth.
"I think the royal family have not wanted to exaggerate the importance of this event and overpublicise it, especially after the success of royal events in 2011 and 2012. I think they don't want to make people feel under pressure that they have to celebrate it, but people seem to want to celebrate it all the same and have some fun. For some people it will be an affirmation of the royal family, for others it will be an excuse to have a good time."
He was also keen to stress that this additional food and drink spending will not just be on luxury items such as champagne and caviar but in this time of austerity he has noticed an upsurge in the sales of sparkling wine.
This may "indicate that Britons will be celebrating, but with a sense of festivity rather than a sense of duty and therefore still mindful of their pennies and pounds."