Back in the Day: the first of Britain's Moors Murders
Comments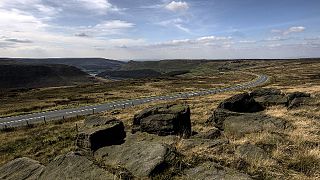 July 12, 1963. Pauline Reade, 16, disappears on her way to a dance at the British Railways Club in Gorton, England; she was the first victim of the Moors Murders, perhaps the most infamous crimes committed in post-WWII Great Britain.
The Moors Murders were carried out by Ian Brady and Myra Hindley between July 1963 and October 1965 and are so named because the victims were discovered buried under Saddleworth Moor outside Manchester.
Brady and Hindley tortured and murdered five youngsters aged between 10 and 17 — Pauline Reade, John Kilbride, Keith Bennett, Lesley Ann Downey and Edward Evans. At least four of them were sexually assaulted. The full horror of their killings did not come to light until the murderers' confessions in 1985. Until that year both had still claimed to be innocent.
On the evening of July 12, 1963, Brady told Hindley he wanted to "commit his perfect murder". He told her to drive around the neighbourhood in a van while he would follow on a motorcycle. He told Hindley that when he spotted his victim he would flash his light and Hindley should stop and offer that person a ride.
Shortly after 8pm, Brady spotted a girl in a pale blue coat wearing high-heels and signalled Hindley to stop. Hindley recognised the victim as Pauline Reade, a friend of her younger sister Maureen and asked her if she would mind helping her search for a glove she had lost on Saddleworth Moor.
Reade accepted and soon after they reached the moor, where they were soon joined by Brady. Brady sexually assaulted and then killed Reade on the moor while Hindley waited in the van. After burying the body together, the couple returned to Gorton where they noticed Pauline's mother and her son searching the streets for her missing daughter.
The murderers were caught when Maureen's husband witnessed the killing of Edward Evans and reported it to the police. Hindley was described in the press as "the most evil woman in Britain". She died in prison in 2002, at the age of 60. Brady was declared criminally insane in 1985 and has since been confined to the high-security Ashworth Hospital; he has repeatedly asked to be allowed to die.
Also on July 12: King Henry VIII of England marries his sixth wife, Catherine Parr (1543); Liechtenstein is given full sovereignty after its accession to the Confederation of the Rhine (1806); The Medal of Honour is authorised by the United States Congress (1862); the Soviet-Lithuanian Peace Treaty is signed (1920); The Rolling Stones perform their first ever concert at the Marquee Club in London (1962).
Born on July 12: Eugène Boudin (1824), Hipólito Yrigoyen (1852), Bruno Schulz (1892), Pablo Neruda (1904), Bill Cosby, Lionel Jospin (1937), Walter Egan (1948), Tom Price (1980).
Picture credit: A view of Saddleworth Moor from Hollin Brown Knoll, taken by Parrot of Doom