Back in the Day: Belfast's Bloody Sunday
Comments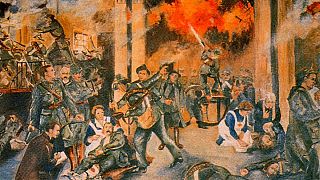 July 10, 1921. Sixteen people are killed in a single day of sectarian violence in Belfast, Northern Ireland during the Irish War of Independence (1919-1921), on what would become known as the city's Bloody Sunday. The conflict was a guerilla war fought by the Army of the Irish Republic, or Irish Republican Army (IRA), against the British Government and its forces in Ireland. The violence in the North, especially in Belfast, was notable for its religious nature, with a high number of Catholic civilian victims. The city of Belfast saw the violence explode in the summer of 1920 when the IRA shot dead a Royal Irish Constabulary detective near Lisburn. In the wake of that killing around 7,000 Catholic shipworkers were evicted from the docks amid rioting between Catholics and Protestants. Fighting intensified in Belfast in the summer of 1921. From July 8 to 11, 22 people were killed, with Sunday 10 accounting for the deaths of 16 civilians (11 Catholics and five Protestants). Some 161 houses were destroyed that day (150 were Catholic). The Irish War of Independence officially ended on July 11, 1921 although fighting as part of the war continued in Northern Ireland until 1922.
Also on July 10: Wyoming becomes the 44th state of the USA (1890); the Vichy government is established in France during World War II (1940); the armistice negotiations of the Korean War take place at Kaesong (1951); the world's first communication satellite, Telstar, is launched into orbit (1962); the national assembly of Pakistan passes a resolution on the recognition of Bangladesh (1973); In London scientists discover an "African Eve", by finding the DNA analysis of the Neanderthal skeleton, which supports the "out of Africa" theory (1997).
Born on July 10: John Calvin (1509), Marcel Proust (1871), Giorgio de Chirico (1888), Jack Diamond (1897), Jake LaMotta (1921), Jessica Simpson (1980).
Picture credits: painting by Walter Paget, The Birth of the Irish Republic