Lebanon: car bomb rocks Hezbollah stronghold as Ramadan begins
Comments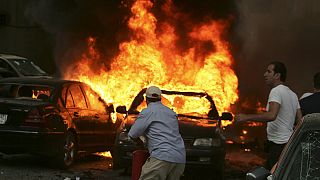 A car bomb has exploded in a Hezbollah-controlled suburb of the Lebanese capital Beirut, wounding at least 18 people.
It happened in a car park in a busy shopping area of the Bir al-Abed district – as Lebanese Shi'ites prepared for the start of the holy month of Ramadan.
There are fears that several people have been killed by the powerful blast, but initial reports of fatalities have not been confirmed by the authorities.
No one has claimed responsibility for the bomb. Ali Ammar, a Hezbollah deputy in Lebanon's parliament told local journalists that Israel is likely to blame: "This is the work of agents trying to create strife in Lebanon."
Long-running sectarian tensions in Lebanon have been escalating, partly due to the conflict in neighbouring Syria. Hezbollah has intervened there, sending troops to support Syrian President Bashar al-Assad's forces.
The area where the blast occured is also home to many Hezbollah political offices. Shopping areas would likely have been full on Tuesday, the day before the Islamic holy month of Ramadan begins.
Interior Minister Marwan Charbel called it "a criminal act aimed at destabilising the country and creating Sunni-Shi'ite sectarian strife".
The attack is the second strike to hit Shi'ite southern Beirut this year.
Two rockets hit the area in May and Lebanese security forces have disarmed several rockets near Beirut in recent months as well.
It was unclear who was behind Tuesday's blast or May's attack.
With Reuters
The first pictures of #Beirut southern suburb explosion pic.twitter.com/8jHJRUa3X8

— Ali Hashem علي هاشم (@alihashem_tv) July 9, 2013
Photo: Smoke rising after huge explosion was heard in southern suburbs of #Beirut: pic.twitter.com/Vh4KnM6S4y pic via kleitm</a></p>&mdash; Malak (malakyz) July 9, 2013
صورة عن انفجار #الضاحية_الجنوبية ل #بيروت#beirut#explosionpic.twitter.com/hCwKLk5ho3

— Johayna جهينة خالدية (@Johaynah) July 9, 2013
‏أعمدة الدخان تتصاعد في الضاحية الجنوبية ل ‏#بيروت‏ وسيارات الإسعاف تهرع إلى المكان ‎#Beirut‏ ‎#Lebanon‏ pic.twitter.com/vcMzUq86xg

— Ahmad M. Yassine (@Lobnene_Blog) July 9, 2013