EU – US free trade talks begin amid spying tensions
Comments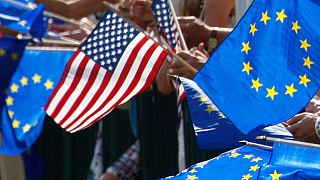 Following nearly two years of preparations, free trade talks between the European Union and the United States have begun.
The discussions, that aim to eliminate import duties on goods traded between the two economies, have been overshadowed by recent revelations about US surveillance programmes and disagreements over protected industries.
The US and EU are already each other's top investment partners but the proposed Transatlantic Trade and Investment Partnership pact would make it the world's biggest free-trade deal, covering nearly 50% of global economic output and 30% of global trade.
The goal is to secure new agreements that will develop economic growth for the world's largest trade and investment partnership, boosting exports and bringing cheaper goods to consumers. Some experts have predicted that the deal could generate more than $100 billion (78 billion euro) in growth for both the US and EU every year. UK Prime Minister, David Cameron, put this into public perspective by announcing the deal could be worth £380 (440 euros) a year to each household in Britain.
In the months building up to the talks, preparations were disrupted by the allegations that US surveillance programmes had targeted EU member states. France had called for the negotiations to be delayed but later changed its stance, saying talks could begin as long as discussions about US surveillance methods were also started at the same time.
Another issue that has threatened the talks is France's 'cultural exception'. It has demanded protection for its film and television industry, which European officials have agreed to for now. The agricultural industry is also likely to cause some problems, with US farmers calling for barriers to genetically modified crops to be removed, leaving many Europeans concerned about the quality of meat and the economic effect on local farmers.
The talks will consider these issues, as well as others ranging from electronic commerce to competition policy.
Head of the European Commission Jose Manuel Barroso said last month, "These negotiations will not always be easy but I am sure they will be worth it."