Record breaking 'dead zone' predicted in Gulf of Mexico
Comments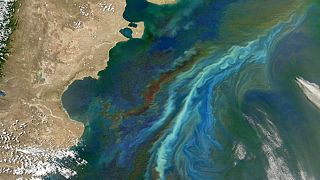 A record breaking 'dead zone' may emerge in the Gulf of Mexico this summer, according to a forecast released last week.
A dead zone occurs in oceans and large lakes, at the bottom of bodies of water and where oxygen is scarce. They are caused by algae created by agricultural nutrients in the surface water, particularly nitrogen and phosphorus. Once they enter the water, these nutrients create an 'algae bloom'. The algae is then decomposed by bacteria which use up the oxygen. This phenomenon kills living organisms such as worms or clams that dwell in these waters, organisms that make up the diet of fish thus threatening the local fish stock.
A forecast made by the University of Michigan and Louisiana State University estimates a Gulf dead zone of between 18,870 and 22,172 square kilometres, which could break the record of the largest ever reported 'dead zone' set in 2002, and which measured 21,965 square kilometres. Following the unusually strong floods that inundated the US Midwest this spring, nutrient-rich run-off water from these farming states ends up in the Mississippi River and eventually arrives in the Gulf.
The forecasts are made using computer models based on US Geological Survey data of nutrient run-off in US rivers and streams, according to the National Geographic.
"It's important [to study dead zones] because most often those areas that become uninhabitable by fish, are a preferred habitat for fish. To draw on an analogy that's ironic, it would be like taking thousands of square miles of land in the Midwest out of production. People wouldn't like it," Donald Scavia , an aquatic ecologist at the University of Michigan, told the National Geographic in an interview.
Scavia explains that "repeated dead zones are somehow making systems more sensitive to nutrients." Dead zones, then, could have a long-lasting effect on the environment.
These issues, emerging from the farming industry, are regulated by the US Farm Bill, which, according to Scavia, does not invest enough money into conservation. As dead zones have the potential to devastate local fishing industries, Scavia said "the solution is really to be more aggressive in dealing with pollution coming from agriculture."
(Article photo: algae bloom off the coast of Patagonia, credit NASA)