Princess Fawzia Fuad dies aged 92
Comments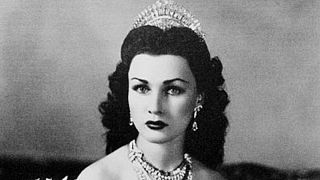 Princess Fawazia, the first wife of the Shah of Iran and a daughter and sister of Egyptian kings has died aged 92, a member of the former royal family has announced.
Her death was reported on social media by her nephew King Fuad II, who was Egypt's last king before he was deposed in 1953, when Egypt was declared a republic.
"The royal family of Egypt announces to the nation that it is mourning the passing of Her Royal Highness Princess Fawzia Fuad, daughter of His Majesty King Fuad I and sister of His Majesty King Faruk I and aunt of his Majesty King Fuad II and the former Empress of Iran…The funeral procession for Her Royal Highness Princess Fawzia will start after noon prayer on Wednesday"
Princess Fawazia became the Queen of Iran after marrying Mohammad Reza Pahlavi in 1939, they divorced 9 years later. She remarried in Egypt in 1949 to Ismail Chirine, an Egyptian army officer.
Her relatives have said she will be buried in Cairo.