Edward Snowden: live update tracker
Comments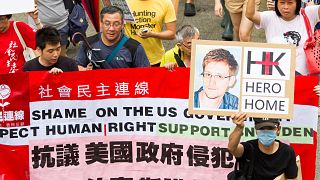 26/06/2013 15.32CET Ecuador on Wednesday said the United States must "submit its position" regarding Edward Snowden to the Ecuadorian government in writing as it considers the former U.S. spy agency contractor's request for asylum. Ecuador, in a statement from its embassy in the United States, also said it would review Snowden's request "responsibly" and weigh "human rights obligations."
25/06/2013 21.04
According to an Ecuadorian minister, the United States have gotten in touch with Ecuador about Snowden.
25/06/2031 20:21
The White House says Russia has a "clear legal basis" to expel Snowden, and says the US wants his expulsion without delay.
25/06/2013 16.50
Russian President Vladimir Putin says Snowden is still in the transit area of Moscow airport. Putin adds that Snowden has committed no crime in Russia and he hopes it will not affect relations with the US. He says that Russian agencies "never worked with Snowden and are not working with him today." He calls for Snowden to make a decision about his destination quickly calling him a 'free man' and saying he is free to leave.
25/06/2013 16.44
Putin confirms Snowden arrived in Moscow as a transit passenger but that Russia was not expecting his arrival.
25/06/2013 14.51
US Secretary of State John Kerry says the level of confrontation with Russia over Snowden does not need to grow.
25/06/2013 14.48
Speaking at a press conference in the Saudi city of Jeddah, Kerry calls for Russia to hand over Snowden to the US.
25/06/2013 11.18
A Reuters airport source says Snowden did arrive in Moscow with Wikileaks legal researcher Sarah Harrison on June 23 around 5pm. The source also said that neither of the pair used their onward tickets to Havana on the 24th.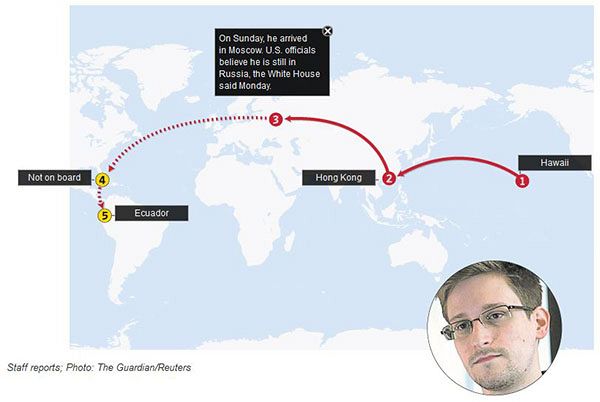 Interactive map by The Wall Street Journal
25/06/2013 10.57
Russian Foreign Minister Sergei Lavrov rejects pressure from the US, saying: "We consider the attempts to accuse Russia of violation of U.S. laws and even some sort of conspiracy, which on top of all that are accompanied by threats, as absolutely ungrounded and unacceptable."
25/06/2013 10.56
Lavrov reports that Snowden has not crossed the border into Russia. Speaking at a joint news conference with Algeria's foreign minister he added: "He chose his itinerary on his own. We learnt about it …from the media. He has not crossed the Russian border."
25/06/2013 09.15
China rejects US accusations that it has aided Snowden's departure from Hong Kong saying the claims are "groundless and unacceptable"
25/06/2013 04.24
Chinese newspaper China People's Daily write: "The world will remember Edward Snowden… It was his fearlessness that tore off Washington's sanctimonious mask."
25/06/2013 02.27
A flight suspected of transporting Snowden to Cuba lands in Havana with no sign of the whistleblower. Press on board the plane and at the airport report no evidence of him during the journey. As the plane's captain emerges from customs he tells the waiting photographers, "No Snowden, no."
24/06/2013
A parody Twitter account @SnowdensSeat, from Snowden's empty seat on the Moscow to Havana flight is set up and attracts 2000 followers
24/06/2013
Euronews: Fugitive's asylum plea causes US political storm

24/06/2013
Amnesty international declare, "The US authorities must not prosecute anyone for disclosing information about the government's human rights violations."
23/06/2013
Snowden leaves Hong Kong on a flight to Moscow. The Hong Kong government says, "Since the documents provided by the U.S. government did not fully comply with the legal requirements under Hong Kong law, the

HKSAR

government has requested the U.S. government to provide additional information … As the

HKSAR

government has yet to have sufficient information to process the request for provisional warrant of arrest, there is no legal basis to restrict Mr Snowden from leaving Hong Kong."
09/06/2013
Snowden talks in a public interview: "The greatest fear that I have regarding the outcome for America of these disclosures is that nothing will change. People will see in the media all of these disclosures. They'll know the lengths that the government is going to grant themselves powers unilaterally to create greater control over American society and global society. But they won't be willing to take the risks necessary to stand up and fight to change things to force their representatives to actually take a stand in their interests."
06/06/2013
Details about the Prism programme 'Prism' are revealed
05/06/2013
The Guardian publishes its first exclusive on Snowden's leak.
01/06/2013
Guardian journalists meet Snowden in a Hong Kong hotel, after he identifies himself with a Rubik's cube.
Credit photo: See-ming Lee/Flickr CC