Window of opportunity for West in Iran says analyst
Comments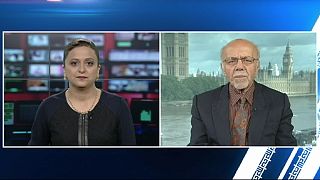 Hassan Rohani, the relatively moderate candidate in the Iranian presidential elections who was supported by reformists, has won. It was a poll that saw Iranians flocking to vote.
We talked to Ahmad Salamatian, an Iranian Affairs analyst, about the factors leading to this victory and its impact.
Maria Sarsalari, euronews:
"Mr. Salamatian, taking into account the pessimism and loss of confidence created after the 2009 election, and the rumours of an vote orchestrated by the government, is this an all-too predictable result?
Ahmad Salamatian:
"Until three or four days before voting day, strict security prevailed. Security was so heavy that it did not allow political expression. During the candidates' television debates and particularly in the second debate the political process somehow leaked through the TV studio and escaped the security blanket. Iranian society is so thirsty for and enthusiastic about political interaction that the spirit of political reaction was able to break through and finally prevail. I can now say that the players on Iran' political scene, both those who are ruling as well as reformists and moderates and the main body of the electorate are all obliged to adopt politics, as opposed to prioritising security. Politics means interaction and seeking understanding. In the current critical circumstances in Iran, Iranian society needs this understanding and the Iranian middle class feels this need acutely. In line with this, leaders of the reformist movement such as Mr. Khatami and Mr. Rafsanjani have acted very well. I can tell you at this stage that the regime shows that it is becoming more realistic about its own situation and towards international issues. Therefore, unlike 2009, I do not think the regime will reject the majority voters' desire for mutual understanding."
euronews:
"At the moment we have a conservative parliament in power. Will it not be difficult for Mr. Rohani to work with it?"
Ahmad Salamatian:
"In an atmosphere of political interaction, even that kind of Majlis will have no option but to listen to the public demand, a demand which is being spelled out so powerfully. I do not think that the Majlis will create many problems for the winner of this election and, even so, it is unlikely that the winner would want to defy other institutions right at the beginning of his term."
euronews:
For years Mr. Rohani was Iran's lead nuclear negotiator. In the electoral debates he criticised his conservative rival Saeed Jalili. What change in the relationship with the West can we expect from Mr. Rohani?
Ahmad Salamatian:
"This sends a powerful message about a kind of consensus in Iran. The international negotiators, who were always looking for someone on the Iranian side capable of engaging in true dialogue and interaction, should now get this message from Iran. My hope is that the International community in general, and the United States and Europe in particular, understand that this is a very suitable chance for interaction with Iran with the aim of solving the nuclear issue.
I also hope that those ruling in Iran will be realistic and refrain from using the nuclear issue as a hostage at home to lock-up domestic politics.
If the international community aims at using Iran's position to stabilize this turbulent Middle East region, a solution that is backed by the majority of the Iranian people, then this will certainly work and the Iranian middle class will also be the best geopolitical ally of the outside world."