Iran's women discriminated against by law
Comments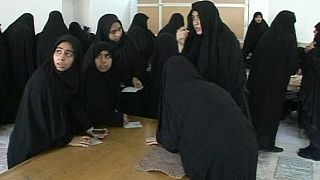 Under Iranian law, a woman is considered the half of a man. Women are not equal to men. They are fighting for equality. They have been organising for years to secure civic rights, such as for divorce, in the workplace, custody of their children and the right to travel. As it is today, they can benefit from these rights only under the authority of a man in their family, such as their father or husband.
The government system in Iran does not recognise any movement in which women are in the forefront. The fight for rights has come at a high cost. For example, Narges Mohamadi lost her health in prison; Nasrin Sotoudeh is serving an eleven-year sentence, and has been banned from practising law for 20 years; Shiva Nazarahari, Jila Baniyaghoub and Bahareh Hedayat have also been given long sentences.
In spite of all the pressures, women are visible in Iranian society. They are present at universities, in demonstrations, in the labour market and even as politicians in the national assembly. They launch campaigns, such as the 'million-signature' petition asking for changes to the law. As their activities develop, the regime has moved to restrict their rights. For example, a law proposed by the government of Mahmoud Ahmadinejad doesn't let unmarried women under the age of 40 leave the country without the permission of their fathers or brothers. Strangely, women MPs supported this law.
Paradoxically, the government lowered the voting age for women to 16 – the same as for men. Once polls are over, however, even a candidate who proposed programmes in women's favour forgot commitments made towards 49 percent of the population of 77 million people.
Another election is under way. A considerable number of the votes are women's. In order to look at how women in Iran are striving for rights, and to consider the obstacles in their way, we interviewed activist Mansoureh Shojaee, a member of the Pen society in London, one of the world's oldest human rights and literary organisations.
Vida Samei, euronews: "With new elections in Iran, women are not eligible to register as presidential candidates. As voters, can they expect to see their demands realized?"
Mansoureh Shojaee: "Well, first of all, many thanks for your attention to matters that are important to women in these elections. Now, this business that women cannot be presidential candidates is written in Article 115 of the Constitution. Women's movements have objected to this problem since 2005. They have also steadfastly tried to vote in the polls because they consider the ballot box as a means for citizens to get their rights. Women have not ignored elections, therefore. Instead, they have participated, while at the same time criticising, objecting and demanding their rights. We should wait and see to what extent the ballot box this time around is representative of these demands. Women's participation in the future will depend on how much of what they are asking for is realised through their voting."
euronews: "What are the obstacles in Iran to women achieving their rights?"
Shojaee: "Legal discrimination stands in women's way. To prevent these legal obstacles, rights activists have always tried to show their objection to the relevant laws in a peaceful way. They have achieved some things. There have been always challenges between the activists and legislators and the executive."
euronews: "What means do Iranian women have to achieve their rights?"
Shojaee: "The only way the women's movement, as a new social movement in Iran, can move their rights forward is through a change in the laws. Through their activities, the coalitions they have formed and through their campaigns, women have conveyed their demand to the officials. Society is aware of this. It should be possible to feel free; they should be able to hold seminars comfortably, to write articles and to contact officials – continuously communicate with the members of parliament. It should be made possible for women to communicate with the legislators in parliament and with the government about their demands. This is how we hope the existing laws can be changed. Otherwise, women will always be challenged. This demand should be pushed forward and it should be dealt with peacefully and wisely. Women citizens have the right to object to discriminatory legislation. Officials should be responsive and listen to these demands, so that this deadlock is resolved and can help provide a peaceful, civilised life for all citizens, particularly for women."