'We need to reestablish tax fairness' says French minister
Comments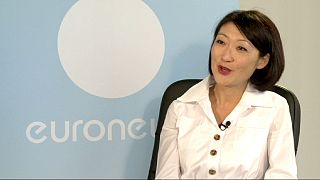 France has recently come under pressure to change the way it treats businesses – cut red-tape, reduce corporation tax and generally become more business friendly – if it is to reverse the country's economic stagnation and falling GDP.
Fleur Pellerin is the French minister in charge of SMEs (small and medium sized companies), innovation and the digital economy. Speaking to euronews, she has been defendinged the government's approach and detailing its plans for a digital future.
euronews: "President Hollande has announced that digital is one of the four mainstays of the govermment's new investment plan over the next 10 years. What exactly does that mean?"
Fleur Pellerin: "While he was campaigning, Francois Hollande, who was not president at that time, made digital a priority, because his fourth campaign pledge was to provide the French with "high speed" [internet] within 10 years. Thus it was already a major commitment. The plan we developed and are now in the process of rolling out is part of that.
"It is true that, as part of the investment strategy, we will announce in the coming weeks, (before the summer), four priorities; digital, large-scale infrastructure, health and the transition to environmentally-friendly power sources.
"So there are great possibilities. I made a number of proposals to finance programmes in areas for the future; for example Big Data, calculating performance, i-health and online education. I think there are many fields where we have very great strengths in France, but we need to stimulate public interest. Then we can develop these future paths for our economy."
euronews: "Do you think the proposals of the Lescure report (recommendations by former Canal Plus chief Pierre Lescure on France's cultural policies in the digital age) are a good basis for ensuring the "French cultural exception" in the digital era? For example, are you in favour of a tax on smartphones to support culture?"
Pellerin: "Right now, there are areas – copyright, intellectual property, authorship as well as the distribution value chain – which exists between creators, producers, publishers, platforms, material manufacturers.
"There are real issues with the value chain between these different groups. I think that this report raises many questions. The tax on mobile equipment, devices, screens, should be viewed from a wider perspective.
"In my opinion, we need to look at downloads; that is personal downloading. The report aims to redress the losses suffered by authors, publishers and producers, when you copy, for private use, music or film.
"Today we see the development of streaming sites such as Deezer, Spotify etc. for music and there are other sites for films – same thing. It is clear that private downloading doesn't make sense anymore.
"So, we need to consolidate or replace it with another system and that is what the Lescure report says. There is no question of France increasing the tax burden."
euronews: "You are setting up a fight with the US net giants, using the rules of the French state. Is this fair in an era of globalisation where national frontiers no longer exist?"
Pellerin: "I think it is the right course of action because it is acceptable for companies to make large profits from a country, even if they [the companies] are free from national frontiers. So I think it's normal for these same companies to respect local rights, customs and laws, even if they do not have their headquarters in said country.
"Thus it seems reasonable to me that these companies, in some ways, respect and integrate into the ecosystem of the country, even if they are businesses that do not really have frontiers."
euronews: "But if new taxes are introduced, such as a tax on bandwidth, or tax-per-click, isn't there a risk the cost will fall on the customer?"
Pellerin: "That's difficult to accept. You know what has happened in England – well some companies, whom I will not name, pay virtually no tax throughout the world. That is, there are companies making tens of billions or hundreds of billions of euros of net profit and paying only two to five percent of taxes worldwide.
"It is unacceptable that other businesses pay up to 30 percent, 35 percent – in the United States 38 percent – tax on profits. I think it is imperative to re-establish 'tax fairness' between those companies that are able to optimise their taxes and those who can't."
euronews: "I see you have several websites open on your desktop: Google, Apple, Amazon … What do you see as the real priority issues?"
Pellerin: "It's all a priority. I'm not in the business of fighting US companies, I don't think that's the point. To repeat – the idea is to re-establish equality between companies, even for those that are foreign owned.
"I think what's important now is to find the right balance; to restore tax fairness and facilitate innovation, but not to take measures which might stifle any progress made possible by new technologies such as the internet."
euronews: France is still an attractive country for foreign investment. Do you think cases such as Dailymotion – when the sale of that company was blocked by the government – is likely to spoil that?
Pellerin: "No, I think what is really important is the tools we have in place now to retain the country's attractiveness. You're right. Last year 700 new foreign firms invested, creating employment in France. Which is a significant figure.
"And 20,000 foreign companies currently operate on French soil, which I think should, in a difficult economic period, highlight the assets we have. I think we already have structural advantages such as a well-educated workforce, very good engineers, cost of energy is relatively low, good transport, good communications infrastructure. The cost of running a company is ultimately not as high as all that in France, even if we include the level of taxation. We have all these advantages."
euronews: "So, in your opinion, the Dailymotion case is not that important?"
Pellerin: "I think this is a cyclical issue and doesn't carry much weight when seen in relation to the advantages we offer to foreign investors which improve the overall business environment."
euronews: "Even though President Hollande said it is not on the agenda, there is much talk about a possible government reshuffle. Are you confident you will be in your ministry for a long time?"
Pellerin: "I work best when given a long time! You know, this is a job where you need a lot of humility. When I took this post, I knew it was a fixed term contract. The minister and the President of the Republic will judge the effectiveness of both the government and the people who make up the government.
"I have projects that are long-term: they concern innovation, small and medium sized enterprises (companies), the digital economy. Some of which are already quite advanced, others will take longer. The investment strategy, for example, is a very long term project, so for the digital sector, you need to imagine France in 20 or 30 years or so.
"I will continue to work on these issues and then afterwards, well you know, c'est la vie. I think if you are in politics, you must accept things are precarious – it's part of the game."