Bolivia: Rubber floors, strong cocita and breathtaking scenery
Comments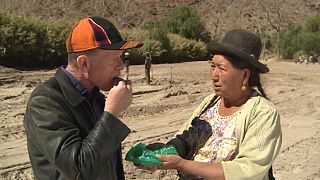 The pilot offers a warning to passengers as they arrive at El Alto airport in La Paz that some may experience dizziness, shortness of breath and develop a blinding headache, in short-altitude sickness, welcome to Bolivia!
El Alto sits at 4,061 metres above sea level, the second highest commercial airport in the world. Getting through customs and into a taxi posed no problem as both myself and cameraman Terry Winn felt fine, despite spending too many hours in the air.
For me the strangeness began as I got to the hotel room. I suddenly felt as though I was walking on very, very soft rubber, I checked my shoes to see if everything was intact, but the wobbles continued. I went down to the lobby in search of reassurance and sure enough Terry felt the same, so we both bounced off for much needed coffee.
We were in Bolivia to film how the people in the remote communities of Quebrada Seca and Hichupampa were coping after a devastating flood wiped out their crops and livelihood in January this year. This meant traveling by air to Potosi followed by a long, high altitude drive south to Tupiza, close to the border with Argentina.
The journey there was marked by spectacular scenery and an irritating roadblock. Bolivia was hit by industrial unrest at the time of our trip and roadblocks are a traditional form of protest. Rocks, trees and striking teachers barred our way. As the traffic built up one truck driver said he was going to go through, the angry teachers said they would 'rip him apart' if he did, he stayed put and they eventually lifted the barricades and we moved on, I was frazzled.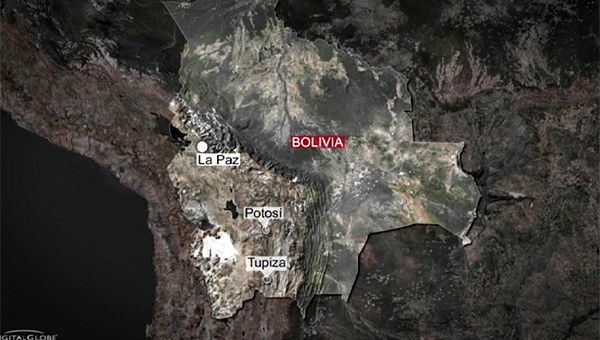 The following morning we drove out of Tupiza to meet the famers whose lives had been so devastated by the all-consuming waters.
What was once verdant farmland is now simply desert and under a baking sun the men and women of this isolated area were hard at work trying to reclaim the land that had supported them for generations.
They all chewed 'cocita,' the coca leaf, as Nely, one of the farmers said 'cocita gives strength' and they need it.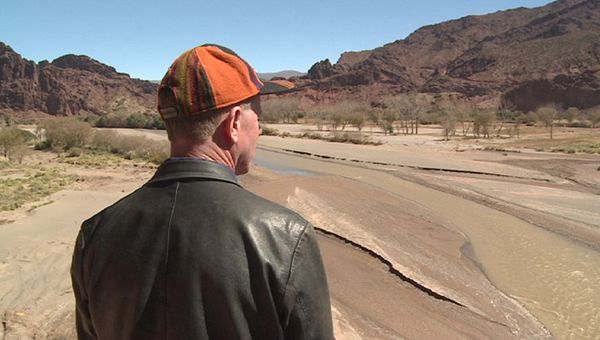 This is not a major global disaster, these small communities go about their business in this remote part of Bolivia almost unnoticed by the wider world. Still the Red Cross is there, helping these excellent, friendly and generous people return to a more harmonious lifestyle where Pachamama is the great provider not the violent destroyer of January 2013.
Chris Cummins