Tehran ditches election 'headache' Rafsanjani
Comments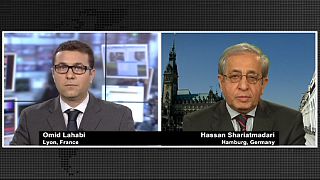 Iran's most senior clerical authorities have ruled out the one candidate who might have been elected president who could have led reformists: Hashemi Rafsanjani. Not everyone was surprised, but some of the electorate are furious.
The election is three weeks away.
The powerful Guardian Council of the Constitution have shortlisted eight figures who will be allowed to run for office in the presidential elections. Most are loyal to the conservative Supreme Leader Ali Khamenei. Only two of them are pro-reform figures.
[These are the former top nuclear negotiator Hasan Rowhani and former first vice president Mohammad Reza Aref. The non-reformists are Saeed Jalili, Gholam Ali Haddad Adel, Mohsen Rezaei, Mohammad Gharazi, Mohammad Bagher Qalibaf and Ali Akbar Velayati.]
The line-up risks alienating voters already disillusioned by the violent aftermath of the 2009 poll. Rafsanjani, now 78, earned hardliners' wrath at the time for criticising authorities' treatment of protesters.
His advanced age may be seen as an impediment to his continuing a political career, said conservative journalist Emad Abshenas: "The reason the Guardian Council barred him is that he is very old. The presidency requires a high level of activity."
Reformist journalist Alireza Khamesian said: "Rafsanjani registering as a candidate at the last minute upset many political factions and ruined their plans."
Outgoing President Mahmoud Ahmadinejad's 2009 victory claim, in a vote his opponents said was rigged, triggered spontaneous protests and violent repression, severely damaging the ruling system's credentials.
Rafsanjani's response was: "The important thing is to regain people's confidence, which brought a huge number of them to the scene; today it has been a bit damaged. This should be our sacred objective: it is not necessary in the current circumstances to keep some people in prison for alleged activities. They should be allowed to rejoin their families."
Rafsanjani was Speaker of Parliament for nine years. Then, from 1989-1997, he was President of Iran, alongside Supreme Leader Ayatollah Ali Khamenei. He is also known as one of Iran's richest men, with wide-reaching contacts.
In 2005, he made a bid to return to the presidency but was decisively beaten by the conservative Ahmadinejad. It was his biggest defeat.
This time, supporters hoped he'd come back to save the economy, and to stop the downward slide in foreign relations with the US, the EU and powerful Arab countries. But the clerics have had a turbulent eight years with Ahmadinejad. They want a president who will go along with them.
We discussed this with Hassan Shariatmadari, an Iranian political analyst based in Hamburg, Germany.
Omid Lahabi, euronews: "In Iran, the Council of Guardians has published the list of the candidates approved to run in the Islamic Republic's upcoming presidential election. To general surprise, Akbar Hashemi-Rafsanjani was disqualified – even though he is the head of the supervisory Expediency Council and a former president!
"Rafsanjani has had a very important role in the formation of the Islamic Republic, yet, in spite of this, he was disqualified. How do you see this move?"
Hassan Shariatmadari: "On the one hand, Rafsanjani's disqualification is, in fact, a disqualification of the Islamic Revolution in which he had a substantial role. At least until his second term as president, he was one of the top decision-makers of the regime. After that, he has held posts as Head of the Expediency Council and Head of the House of Experts, and these are very important posts in the Islamic Republic.
"On the other hand, if, in fact, he has been disqualified at the order of Supreme Leader Khamenei, which seems in all probability to be the case, it can be said that Khamenei is afraid that his sphere of power is shrinking, and that it no longer extends to cover all the figures and the main body of the regime. Therefore, he is either trying to delete the part of the system that does not abide by his wishes or to limit the core of the system to those he can still trust and rule."
euronews: "Some social and political personalities, including the daughter of Ayatollah Khomeini, the founder of the Islamic Republic, have asked the leader to intervene and issue a state decree to bring Rafsanjani back into the elections. How probable do you think that is?"
Shariatmadari: "The chances are very small. Even if that happened and Rafsanjani finally got through because of the leader's order, he would be in debt to Khamenei, whose policies have, so far, prevented the political sphere from opening up, have prevented cooperation with the West over the transparency of Iran's nuclear project, and, also, have made cooperation towards solving the country's problems difficult."
euronews: "The credentials of Esfandiar Rahim Mashaie – protege of Ahmedinejad – have also been rejected. How predictable was that?"
Shariatmadari: "In my view, Mashaie did not stand much of a chance. It was thought that the outgoing President Ahmadinejad, with Mashaie and their supporters would rouse some sort of reactions in society and disclose certain information if Mashaie were disqualified. Those concerns may still be there but, as far as we know, the Guardian Council has decided firmly that it is a risk worth taking. We will know within the next few days whether or not this is Khamenei's decision. It seems very probable that he has decided to disqualify Mashaie, and pay the price at this stage so that he would not have to go through the headache of the next two presidential terms with Mashaie. He wants to rule over a homogeneous regime. Of course, I think that whichever presidential candidate comes to power will still have the same problems with the leader as before and the system will not become homogeneous."