Egypt and Tunisia's new 'Arab winter'
Comments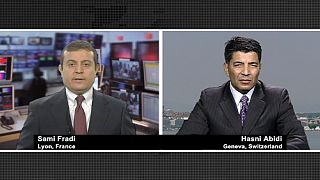 Tunisia and Egypt are emblematic of the Arab Spring. Both similarities and contrasts have marked their paths. Now they seem to be heading into a new Arab winter.
Moncef Marzouki has been Tunisia's president since December 2011, a secularist human rights activist.
Egypt's president since June 2012 has been Mohamed Mursi, candidate of the Muslim Brotherhood.
The people of both countries elected each democratically, the first time they'd had the chance, after getting rid of their respective dictators, Ben Ali in Tunisia and Mubarak in Egypt.
The Tunisian vote handed the Ennahda Islamists a 42% majority of parliamentary seats, so they are the senior partner in a coalition government with the secularists, with Ennahda's Hamadi Jebali as the prime minister.
But hopes swiftly soured, replaced with disappointment. Turbulence returned, becoming more and more violent.
Salafist groups attacked anyone or anything they found contrary to hardline Islamic sharia law, which they sought to impose.
The ruling Ennahda party couldn't kickstart the economy, which slumped the moment Ben Ali was out, and stomped down protests with police force.
In Siliana last December, 220 people were injured.
A woman protestor holding up munitions used by the authorities, said: "This is in our houses! This is the paradise that the Ennahda party promised us! This is your paradise, people of Siliana, of Tunisia! This is Ennahda's paradise!"
The assassination of Chokri Belaïd, opposition leader with the left-secular Democratic Patriots' Movement, was a further blow to the Jasmin Revolution.
Mohamed Mursi's election to office with nearly 52% of the vote showed how divided Egypt still was.
Mursi's opponents' anger increased when he decreed full legislative as well as executive power for himself last August.
The demonstrators are back in Cairo's Tahrir Square, and violence continues. They say radical members of the Muslim Brotherhood have infiltrated the security forces and the army. In Mursi's Egypt, dissenters still get beaten. There have been accusations of torture.
To take stock of the situation in Tunisia after the assassination of the opposition Popular Front leader Chokri Belaid, euronews interviewed Hasni Abidi, director of the Study and Research Centre for the Arab and Mediterranean World in Geneva.
Sami Fradi, euronews:
"What is the fallout of this assassination on the political stage in Tunisia?"
Hasni Abidi:
"It's the first time in Tunisia's history that a man has been assassinated because of his political stance, particularly since the fall of the previous regime. The second consequence is that this assassination is going to deepen the atmosphere of frustration and division while the people have some very big political expectations."
(Editor's note: there are demands for elections in three months, the declaration of a new constitution, for former regime officials to go on trial, and for a phase of reconciliation.)
euronews:
"Those close to Belaid have accused the main party (Ennahda) in the ruling coalition of being behind this assassination. To what extent does this party bear responsibility?"
Hasni Abidi:
"We can say that the Tunisian government's great powerlessness lies in the perturbed and equivocal relationship at the heart of the Ennahda movement, between the leadership and representatives of a more radical and Salafist movement. Besides, the latter have already declared their intention to assassinate political figures. It is this ambiguous relationship, as well as the government's helplessness, that facilitated such an assassination."
euronews:
"Is what is happening today in Egypt and Tunisia the result of a failure of Islamist parties in power?"
Hasni Abidi:
"The situation in Tunisia resembles enormously that in Egypt. We observe this failure of governments and of political parties emanating from elections. At the same time the other political parties have not acted in a convincing enough manner to be able to succeed at the next elections."
euronews:
"Should we fear a scenario similar to Algeria's (in the 1990s) happening in Tunisia and in Egypt?"
Hasni Abidi:
"The events and particular circumstances are different. But after October 1988 and the arrival of the Islamic Salvation Front and other extremist groups, assassinations of public figures multiplied, just because they had said "no" to keeping people in the dark. In that sense there is a resemblance between Tunisia and Egypt. But what is positive is that these two countries can learn lessons from what happened in Algeria, in so far as the Algerian government at the time closed its eyes to the abuses against civilians, political parties and intellectuals."