Irish PM warns UK that EU exit would be 'catastrophic'
Comments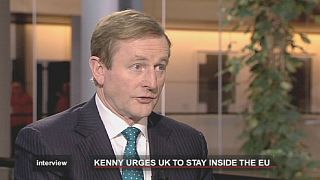 Taoiseach Enda Kenny has warned British Prime Minister David Cameron that quitting the EU would be "catastrophic".
Kenny made his comments in an interview with euronews' James Franey at the European Parliament in Strasbourg.
"Britain was a driver of the Single Market. (It) is an important and fundamental element of the European Union and, in my view, it would be catastrophic were Britain to opt to leave the European Union," Kenny said.
"I think if you were removed from outside that Single Market and have no influence on the conditions that apply there, I wouldn't think that it would be in the interests of any particular country."
When asked by euronews whether any country should be allowed to 'cherry-pick' parts of EU membership, Kenny said: "The same conditions apply for all members. And in theory, if you were to say 'OK, you can revise membership for one country' then you might have a lot of applicants as well (seeking the same treatment)."
The Irish Prime Minister's warning came as Cameron prepared to deliver his long-awaited speech on Friday in Amsterdam which will lay out how he wants to change Britain's relationship with the EU.
Cameron has floated the idea of 'repatriating powers' from Brussels in an apparent bid to tame Eurosceptics inside his own party and tackle the rise of UKIP in the opinion polls.
Downing Street is particularly keen on wrestling back powers on justice, employment and policing issues.
But EU diplomats said that would require re-negotiating the bloc's treaties, which they argued there is little prospect of as the EU grapples with the eurozone debt crisis.
The British Prime Minister will address diplomats and officials in Amsterdam on Friday morning.
Britain became a member of the European Economic Community, the forerunner to the EU, in 1973 despite rigid opposition from France.