Same-sex marriage evolving in Europe
Comments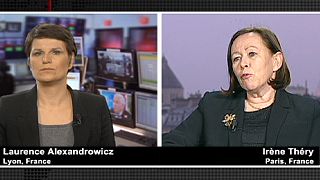 Legal freedom to marry is far from globally guaranteed, including in Europe. France for instance, is years behind others in the debate. We'll focus on that in a moment.
Men married at Amsterdam's town hall on 1 April 2011, for instance, celebrated not only their own union but also ten years of gay marriage in the Netherlands. The mayor spoke up for fairness.
Eberhard van der Laan said: "Gay marriage symbolises equality regardless of someone's sexual inclination. Until ten years ago there was a huge barrier. It wasn't possible to marry if you were gay or lesbian. What gay marriage means I think those who are gay or lesbian know best."
The Dutch parliament had thought about legalising gay marriage for five years. The country's gays had been lobbying for it since the 1980s. Then after the Netherlands lowered the marriage barrier in 2001 other countries followed.
In 2003 it was Belgium. The next year Massachusetts led the way for eight states in the US. Canada and Spain took the step in 2005, South Africa in 2006. Norway and Sweden made it legal in 2009, then in 2010 Iceland, Portugal and Argentina did likewise, Mexico City following suit in 2011, then some parts of Brazil in 2012, and Denmark.
Lawmakers based their moves on a principle of non-discrimination. But they faced strong resistance, notably from the Catholic Church. In spite of its religious influence in Spain, however, 25,000 gay marriages have been celebrated there since 2005.
And church groups didn't surrender, in 2008, for instance, organising a demonstration in Madrid with tens of thousands of people in protest over the law the Socialist government had brought in.
But not all churches stood in the way. The Lutherans of Sweden, officially separated from the state in 2000, went along with the law as of 2009, not hesitating to sanction gay marriage at the altar.
The nation's foremost religious voice said they had got a head start with their homework.
Archbishop of Sweden Anders Wejryd said: "Because of some reasons, because we are in a Lutheran tradition and that this issue has been wrestled with for almost 50 years within the church. We were prepared and it was brought up early that way."
Sweden was an exception, for even in other majority protestant countries marriage in church, under the law, is the reserve of one man and one woman.
Laurence Alexandrowicz of euronews has been talking to Irene Thery.
"Irene Thery. You are a sociologist, and as such the French government consulted with you to prepare a draft law on gay marriage. Like me you have read that 60% of French people are in favour of gay marriage. So why is the debate on the subject so passionate? Is France homophobic?"
Irène Théry, sociologist: "Honestly I don't think that France is homophobic. The polls show us some very interesting elements that prove that. For example, rural communities have sometimes been more favourable to gay marriage than the major cities. And there's really a generational difference in the debate. People who are under 50 are very positive to both marriage and adoption. Those who are over 50 are much less in favour. The other element that feeds the debate is the willingness of the Catholic Church to turn this into a controversial issue."
euronews: "You're a specialist in family legislation and you've surely noticed that those who are against gay marriage and especially adoption highlight the effect on the children. Were there any studies about the impact on children in countries that have already adopted the law, notably Holland."
Irene Thery: "I don't really know the Dutch legislation, but according to what I've read there were many studies about same-sex parenting that conclude that children raised by two men or two women are as balanced as children brought up in heterosexual marriages, they are like all the others."
euronews: "You talked about the Catholic Church in France. Spain and Portugal are Catholic countries and the law about same sex marriage and adoption for gay couples has been on the statue books for years. Were there many reservations?"
Irene Thery: "In Spain at the beginning there was a lot of reluctance. It was the same attitude in the parishes – the Catholic Church, brought together in Madrid, according to the organisers, 1.5 million people who were against same-sex marriage. Seven years later Spain and Portugal would not raise the idea of going back, the political majority has changed in Spain, and yet no one wants to change the law."
euronews: "In countries that have adopted gay marriage, has the perception of homosexuality changed and are there many marriages and adoptions?"
Irene Thery: "There are not a lot of weddings and not many adoptions and this somehow reassures everybody. They realise that the family landscape has not been upset. Why is that because homosexuals are in the minority, they represent about 6% of the population.
'Not all in that number are together as couples, not all marry and therefore it is not a very large number of people. Yet I think the perception of homosexuality radically changes as people see same-sex marriages. What is changing?
'People see same-sex couples accompanied by their parents, grandparents, not isolated couples as we imagine. So there are several generations surrounding these couples. They show their love and understanding of the commitment which the couples are taking, and that has a very strong effect on social integration."