In France, Mayan prophecy a dud
Comments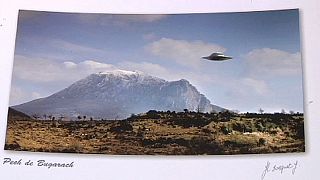 Our special UFO correspondent, with some trepidation, ventured bravely into the outback of southern France, the foothills of the Pyrenees, where the sun rose on the day the world would end, according to an ancient Maya fore-telling. And then the sun set, and all was well.
The Internet rumour that the Pic of Bugarach would produce flying saucers to save some lucky souls who had believed the rumour… well, some rumours come true. But no one needed saving.
The people living here have been mostly easy-going about it. They said they had had UFO- and extraterrestrial-seekers coming here for decades.
A patron at a bar confided: "Bugarach is going to be a great claim to fame for the region, because we're hurting. There's no use hiding it: that goes for business and companies in the whole region. So, I think this will be a breath of fresh air."
At a café counter, we heard: "There have been some more customers coming in since this morning, locals and crazies. It's a big hoax but it's good for business."
We interviewed a local mortician, who said: "Hey, if it makes people come here, why not? We're up for it, aren't gonna throw dirt at it. If it's like Lourdes and Rome, fine."
Bugarach normally has fewer than 200 people.
Extra security was laid on, and the mountain was ruled out of bounds, but no great tide of humanity showed up.
A bakery server told us: "Today, this morning, I sold more croissants and stuff really early. Well, it started really early, so I'm happy, 'cause I made a bit more cash."
We asked: "So would you like to arrange more apocalypses so you sell more?"
The baker: "No, I'd sooner get it over with; it's getting a bit much."
Now that the suspense of 'you never know' has dissipated, the media correspondents can go on to their next assignments. Ours too.
Ali Sheikholeslami said: "Mount Bugarach behind me is not yet upside down: I can't see any aliens around me; so perhaps it is really the end of the 'joke'; and, if you can still see me, perhaps see you tomorrow."